Charlie Sheen Two and a Half Men exit watched by 28.7m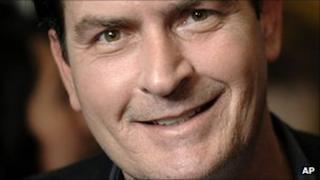 Charlie Sheen's TV exit on sitcom Two and a Half Men was watched by 28.7m in the US - the highest ratings for the show since it began in 2003.
The season nine opener began with the funeral of Sheen's character, Charlie Harper, after he was apparently killed by a metro train in Paris.
The episode also introduced Ashton Kutcher as Sheen's replacement.
Sheen was fired from the show in March after criticising its producers and months of reported drug use.
The audience for the opener was almost double that of last year's, where 14.65m viewers tuned in.
That series attracted between 13m and 15m viewers each week.
The sitcom's previous best was 24.24m viewers in May 2005, when it followed the final episode of Everybody Loves Raymond.
Details of how Sheen's character would meet his end and how Kutcher's would be introduced had created considerable speculation after producers kept the storyline secret.
Viewers saw Sheen's TV funeral attended by his past girlfriends and fiancee, who eventually revealed how he had died.
Kutcher appeared as heartbroken internet billionaire Walden Schmidt, who buys Harper's house after making a suicide attempt.
Reviews for Kutcher's debut, in which he walked around nude, were kind and suggested that the series was far from dead without Sheen.
"Kutcher's performance was good, nearly as poker-faced fine as Sheen's was... Kutcher will probably prove just as skilled," wrote Entertainment Weekly's Ken Tucker.
The Los Angeles Times called the premiere "a promising beginning", adding that "Kutcher brings a softness to a series that could be brittle and sour, misanthropic and misogynistic, and temperamentally middle-aged".
Meanwhile, Sheen was also the victim of a TV roast on Comedy Central.
The event, which featured the actor being ridiculed by celebrities including William Shatner, Jackass stuntman Steve-0 and boxer Mike Tyson, was watched by 6.4m people.
Comedy Central said Sheen's roast was the most-watched, and the second most-watched broadcast in the cable network's history.