The Wire star West Dominic West shines in Othello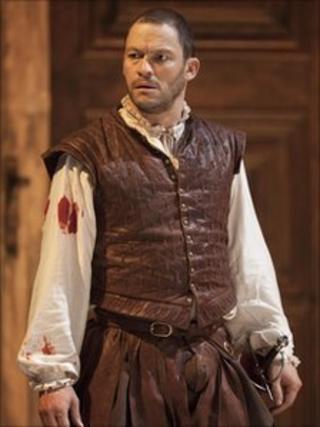 Actors Dominic West and Clarke Peters, best known for starring in TV drama The Wire, have started their stage run in Othello at The Crucible in Sheffield.
West impressed as the sinister Iago, played with a Yorkshire accent, opposite Peters in the title role.
West was born and grew up in the city and his grandfather was involved in building the theatre, which is celebrating its 40th birthday.
Telegraph critic Dominic Cavendish wrote: "The night belongs to Iago."
He praised West's "knack for evil", adding that the choice of accent was "a triumph of apparent trustworthiness".
"He grins, he glints, he lets shades of the northern jester creep in - and you can see why everyone's his fool," he added.
In The Guardian, Michael Billington wrote: "What is excellent about West is that he has a surface honesty that makes him grammatically plausible and that yields a lot of laughs."
West is gaining a reputation for getting under the skin of evil characters, with his role as the scheming villain in Shakespeare's tale of jealousy and betrayal following an acclaimed performance as serial killer Fred West in ITV1 drama Appropriate Adult.
Speaking to BBC Radio 4's Front Row, West said he chose the Yorkshire accent because "it's where I'm from and it's an accent I feel comfortable with".
He added: "And it seemed to me to give him that degree of earthy, upfront, straightforward honesty."
West said he saw Iago as "the archetypal aggrieved underling".
"[He is] the guy who thinks he's cleverer than his bosses and is constantly overlooked because he doesn't have the education and doesn't sound right," he said.
"In spite of his talents, he never gets the promotion. And I think in that way he relates to a lot of us."
The Independent's Paul Taylor said Peters "exudes gravitas", while The Daily Mail's Quentin Letts focused on actress Lily James, who plays Othello's wife Desdemona.
"We may have a new star actress on our hands," Letts wrote, ending his review with the line: "Someone fix that honey a Hollywood agent, pronto."
West and Peters filmed five series of US drama The Wire together, playing tough-talking TV detectives tackling drug dealers on the mean streets of Baltimore, Maryland.
Peters went on to star in Treme, a small screen drama about the aftermath of Hurricane Katrina in New Orleans, made by The Wire creator David Simon for HBO.
Although the character of Othello is black, many white actors have appeared in black make-up through the years, notably Laurence Oliver in an Oscar-nominated 1965 film and Anthony Hopkins in a 1981 production for BBC television.
In 1999, Ray Fearon became the first British black actor to portray the role with the Royal Shakespeare Company.
The Crucible production comes two years after comedian Lenny Henry played the title role at the West Yorkshire Playhouse in Leeds.