Tinker Tailor Soldier Spy tops UK box office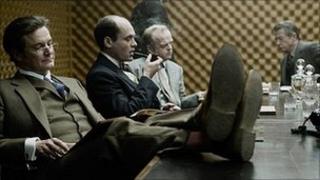 The new film adaptation of Tinker Tailor Soldier Spy has topped the UK and Ireland box office.
The movie, which premiered at the Venice Film Festival earlier this month, took a total of £2.8m in ticket sales during its opening weekend.
The Inbetweeners, which held the top spot for four weeks, fell one place.
The Change-Up debuted at five, I Don't How She Does It opened in seventh place and new release 30 Minutes Or Less was at number 10.
Tinker Tailor Soldier Spy, based on the espionage novel by John le Carre, stars Gary Oldman and Colin Firth.
It was originally adapted into a BBC drama in 1979 featuring Alec Guinness and Ian Richardson.
The Inbetweeners, based on the popular E4 series, has taken a total of £41.8m since it was released five weeks ago.
At number three this week was romantic comedy Friends With Benefits, followed by Jane Eyre in fourth.
The Smurfs film was down two places, at number six, while Rise Of The Planet Of The Apes was in eighth.
One Day, starring Anne Hathaway, fell three places to number nine.