US singer Dolores Hope dies at 102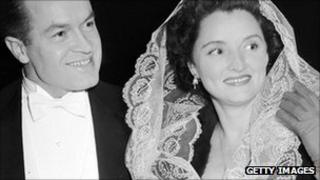 US singer Dolores Hope, who was married to comedian Bob Hope for 69 years, has died at the age of 102.
Family spokesman Harlan Boll said she died of natural causes at her home near Los Angeles on Monday.
Dolores Hope, who met her husband while singing in a nightclub in 1933, accompanied him on trips to entertain US troops from the 1940s onwards.
"Together, they brought countless hours of laughter and cheer to Americans everywhere," said friend Nancy Reagan.
Hope gave up her singing career to raise the couple's four adopted children before joining her husband on his troop tours.
In 1966, her rendition of Silent Night in front of thousands of GIs brought a standing ovation.
In 1990, she was the only female entertainer to perform in Saudi Arabia when she sang for troops taking part in Operation Desert Storm.
Marie Osmond, the Pointer Sisters and Ann Jillian did not perform, in order to avoid offending Saudi sensibilities.
But Hope was given the go-ahead to perform and sang White Christmas.
She released her first album, Dolores Hope: Now and Then, when she was 83.
Her husband died at the age of 100 in 2003.
"Both the entertainment world and the church have lost a woman of profound faith, gifted musical talent and dedication," said Los Angeles Archbishop Jose H Gomez.
"The death of Dolores Hope leaves a huge void in southern California," he added.