Spooks beaten by Downton Abbey in ratings battle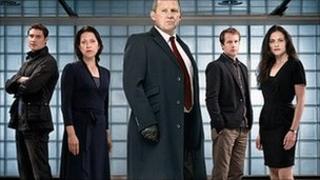 BBC spy drama Spooks was beaten by Downton Abbey in the battle for Sunday night's ratings, with twice as many people watching the ITV1 period drama.
An average 4.6m viewers tuned in to watch the beginning of Spooks' 10th and final series, while 9.3m saw Downton's second series opener.
A peak of 9.9m people watched the first 15 minutes of Julian Fellowes drama, overnight figures suggest.
But it lost some 1.3m viewers by the time the 90-minute episode ended.
The X Factor, which preceded the drama on ITV1, achieved an average audience of 11.5m people.
Downton Abbey - which won four Emmys on Sunday including best mini-series and best supporting actress for Dame Maggie Smith in the US - had been expected to triumph when the two shows were pitched against each other.
The first series was a ratings winner, beginning last September with a similar 9.24m viewers, peaking at 10.77m for its final episode in November.
When the BBC first announced it would be putting the spy drama up against Downton, the corporation said: "Downton and Spooks are very different shows and offer a real alternative for audiences.
"This is the last ever series of Spooks and we wanted to celebrate this and make it a special event for viewers in the Sunday 9pm slot."
Previously, Spooks had always been broadcast on a weekday and averaged around six million viewers.
Overnight figures indicate its episode on Sunday is one of its worst ratings performances since the show began in 2002.
Spooks' viewing figures have only dipped below 4.6m twice before.
But final viewing figures may increase when consolidated data from catch-up services are recorded in a week's time.