Tony Curtis auction angers family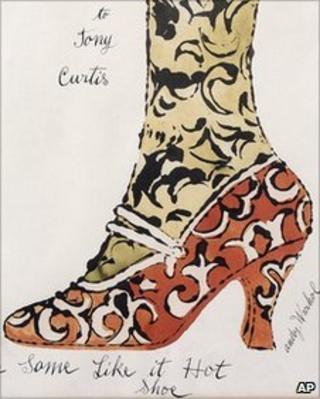 An auction of property owned by the late actor Tony Curtis has angered his children, who say they were not consulted over the sale.
Among the items sold on Saturday was the star's jacket from Some Like It Hot, which raised $48,000 (£30,405).
A signed print by Andy Warhol fetched $53,125 (£33,652).
The items were sold by Curtis's sixth and last wife, Jill. His daughter Allegra said: "This is not what my dad would have wanted".
The sale, at Julien's Auctions in Beverly Hills, California, made more than $800,000 (£506,760).
It included work by several famous artists, including Warhol, Balthus, Picasso and Chagall, alongside Curtis's own paintings.
Movie memorabilia on sale included the star's Hollywood Walk Of Fame plaque and a dining table he bought from Marlene Dietrich.
Other lots ranged from a Faberge gold and sapphire cigarette case to a rosewood flute given to Curtis by Frank Sinatra.
His children said the artefacts belonged "in a museum".
"Jill Curtis is the only beneficiary of this auction. She did not consult us," Allegra Curtis, daughter of Tony's second wife, actress Christine Kaufmann, told The Hollywood Reporter.
"Jill's even selling off credit cards and driver licenses. She's also selling my dad's letters to Cary Grant, Jerry Lewis, Picasso... it's the dissemination of the estate of Tony Curtis. He deserves better."
Darren Julien, who ran the auction, disagreed.
"Tony came to many of our auctions with Jill and said he wanted Julien's to handle his auction after he died," he said.
"I know this is exactly what he wanted."
Curtis was one of Hollywood's most fondly remembered stars when he died last September, aged 85.
He made more than 120 movies, including Some Like It Hot, Spartacus and The Vikings.
In 1959, he received an Oscar nomination for The Defiant Ones, in which he starred with Sidney Poitier as an escaped racist convict handcuffed to a black escapee.