Music festival makes school rock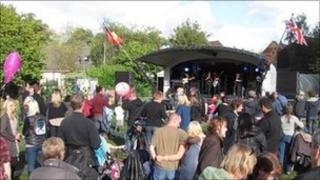 A guitarist who was in rock band The Fall for 20 years has staged a music festival at the primary school where he now works as a caretaker.
Steve Hanley enlisted members of the bands James and The Inspiral Carpets to perform at Cavfest in Cavendish Primary School's playing field in Manchester.
Some 1,600 tickets were sold, raising money for musical instruments for the school after its budget was cut.
Hanley, who plays bass, was a linchpin of The Fall from 1979 to 1998.
He is now a member of Tom Hingley and the Lovers, fronted by the former Inspiral Carpets singer, with whom he performed at the event on Saturday.
Hanley said: "The school's down on its budget because of the cuts so we thought let's have a festival, and it's bizarrely become reality. It's better than I ever thought."