Pop art pioneer Richard Hamilton dies at the age of 89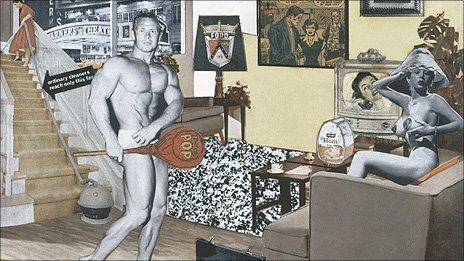 British artist Richard Hamilton, regarded as a pioneer in the field of Pop art, has died at the age of 89 following a short illness.
The London-born artist's best known work was a 1956 collage featuring a body builder and a tin of ham, which earned him the title "Father of Pop".
The Gagosian Gallery, which announced his death, said the art world had "lost one of its leading lights".
He was working on a major retrospective just days before he died.
The exhibition is due to be seen in London, Los Angeles, Philadelphia and Madrid next year.
Larry Gagosian, who owns several galleries around the world, said: "This is a very sad day for all of us and our thoughts are with Richard's family, particularly his wife Rita and son Rod."
Tate director Sir Nicholas Serota said Hamilton died as he "would have wished", working on his art.
In an interview with the BBC last year, Hamilton said: "I've always done exactly I wanted to do and I've always had the good fortune to do that."
The artist was born in London in 1922, trained as an engineering draftsman and worked at EMI during World War II.
He studied at London's Royal Academy but was expelled after defying the teacher's instructions.
Hamilton went on to study at the Slade School of Fine Art, leaving in 1951.
A year later, Hamilton founded the Independent Group at the Institute of Contemporary Arts (ICA) in London, with Eduardo Paolozzi, Lawrence Alloway and several other architects.
This group helped to develop English Pop Art.
In the late 1950s and early 1960s, he also taught at the Central School of Arts and Crafts and the Royal College of Art, where he was an early supporter of David Hockney.
Aside from his famous collages, Hamilton also designed the cover of the Beatles' White Album and poster in 1968.
Hamilton's design is the only Beatles' album cover that does not show the four band members.
The artist told how Sir Paul McCartney called him to ask him to design the new cover.
Hamilton said: "Peter Blake's album sleeve (for Sgt Pepper) was crowded with people and very colourful. I thought it would be appropriate to present an album that was just white."
'Vulgar American imagery'
During his career, Hamilton exhibited at some of the world's most famous art galleries, including the Tate in London and the Guggenheim Museum in New York.
His later work focused on political images, which often parodied post-war consumerism.
Serota said: "This fascination with the consumer society was highly critical, a moral position that was also evident in his distrust of the political establishment ranging from Mrs Thatcher to Tony Blair and Hugh Gaitskell."
Shock and Awe (2007-08) featured Tony Blair wearing a cowboy shirt, with guns and holsters.
Hamilton said he produced the image after he saw Blair "looking smug" following a conference with George Bush.
In 2010, London's Serpentine Gallery exhibited Hamilton's Modern Moral Matters, which focused on his political and protest works.
Asked recently about being called the father of Pop art, Hamilton said it was not a term he aligned himself with.
"While I was interested in the pop phenomenon, I never associated myself with the term, which I used to describe Elvis Presley and rather vulgar American imagery of ice cream cones or hamburgers," he said.
"However, significant things were happening in the 1950s and it seemed not only to be a cool moment but a momentous moment for humanity."
Related Internet Links
The BBC is not responsible for the content of external sites.