Trollope to rework Austen's Sense and Sensibility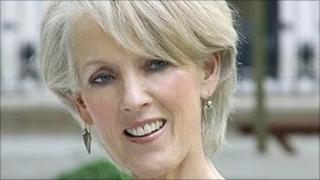 Joanna Trollope is to write a contemporary version of Jane Austen's classic novel Sense and Sensibility, which will be published in autumn 2013.
It will form part of a series of six HarperFiction novels that will rework Austen's books, although other authors have yet to be announced.
"This is a great honour and an even bigger challenge," said Trollope.
Trollope, whose novels include The Choir and Friday Nights, is to chair next year's Orange Prize for Fiction.
"It's a hugely exciting proposal to attempt the reworking of one of the best novels written by one of our greatest novelists," she said.
"This is a project which will require consummate respect above all else - not an emulation, but a tribute."
HarperFiction's publishing director Louise Joyner, said: "Joanna Trollope and Jane Austen share an extraordinary ability to combine heart-rending plots with a social acuity which has powerful resonances for contemporary audiences."
Sense and Sensibility, which reveals the fortunes of the Dashwood daughters following the death of their father, is one of Austen's most famous novels.
It has been adapted for both television and cinema - Emma Thompson won an Oscar for her film version of the novel in 1995.
She wrote the script for the movie, in which she co-starred with Kate Winslet.
Andrew Davies' 2008 BBC mini-series starred David Morrissey and Dominic Cooper.
This year marks the 200th anniversary of the publication of Sense and Sensibility.