Jeff Beck named as Classic Rock living legend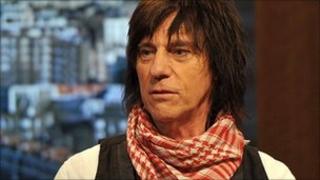 Guitarist Jeff Beck is to be honoured with a living legend award by Classic Rock magazine.
Beck, 67, was a former member of The Yardbirds and founded the Jeff Beck Group, featuring Rod Stewart on vocals.
The musician, who was born in Surrey, told the BBC News website he was "very honoured" by the award.
"I'm really a backroom boy, not a mainstream rock act," he said. "It means someone is out there looking at what I'm doing, which is really nice."
The Classic Rock Roll Of Honour will be held at London's Roundhouse on 9 November, hosted by Kiss frontman Gene Simmons.
Other nominees include Foo Fighters, Iron Maiden and Metallica, who are all up for band of the year.
They will compete against The Michael Monroe Band, a new project from the former Hanoi Rocks frontman; and supergroup Black Country Communion, which includes Glenn Hughes and Jason Bonham in its line-up.
The 13 nominees for album of the year encompass rock veterans like Journey, Motorhead and Whitesnake alongside relative newcomers like Alter Bridge - who were formed in 2004.
Beck is also shortlisted in that category for Rock 'n' Roll Party, a live album recorded at a tribute concert for Les Paul.
The guitarist was one of three people to play lead for The Yardbirds - Eric Clapton preceded him, and Jimmy Page took his place in 1966.
While his contemporaries became globally-recognised rock guitarists, Beck followed a more complicated path, embracing jazz, psychedelia and electronica.
"Maybe I'll hear an opera singer and go home and write a heavy metal riff," he said.
"It's just what music does to me. It's hard to explain."
In 2003, Rolling Stone magazine named him the fourteenth greatest guitar player of all time. He has been inducted into the Rock And Roll Hall Of Fame twice - once as a solo artist, and once as part of The Yardbirds.
"It's very difficult to turn your back on something that draws people's attention to what you've been doing," he told the BBC.
"But living legend? It's hard to know what that means."