Eminem, Beyonce, U2: Do festival headliners matter?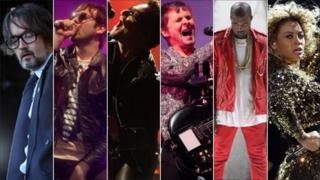 As the 2011 festival season draws to a close, BBC 6 Music is asking listeners to pick the best headline act of the summer. But just how important is it to put the right artist at the top of the bill?
"We were trying to get U2 for 32 years," Michael Eavis told the BBC this summer. "That's a long time trying, isn't it?"
Glastonbury's master of ceremonies has long recognised the value of securing a unique headline act - but are the big names really why fans part with their cash?
"The headliner is very much the icing on the cake, as opposed to the cake itself," says Melvin Benn - head of Festival Republic, which stages the Reading and Leeds Festivals, amongst others.
"The cake for all festivals is invariably the quality and the depth of what is below the headliner. If you only pay attention to the main act, then all you've got is a concert."
'No new headliners'
2011 saw an incredibly diverse line-up of acts taking to the main stage.
Guitar bands like Foo Fighters and Coldplay continue to be the most bankable stars, but they're increasingly seeing competition from urban acts like Kanye West, Black Eyed Peas and Beyonce.
Arctic Monkeys, who headlined the V Festival in August, say the rock market seems stagnant.
"There aren't many new bands that are headliner-worthy," says drummer Matt Helders. "And there hasn't been one for a while."
"There's obviously a lot of great bands out there, but I don't think enough people are into them to allow them to put on a massive show."
Rock acts are unquestionably feeling the pinch in the UK charts, falling out of favour with younger audiences, who want to see urban and pop artists like Tinie Tempah and Example.
And scruffy indie bands nowadays face added pressure to please the television audience, as well as the ticket-holders, if they want to rise up running order.
Beyonce, initially a controversial choice to headline Glastonbury, told the BBC she spent "a couple of months" working on the set-list and costume changes for her show.
"There was all this anticipation," she said. "I don't normally do festivals or play to 175,000 people. I was very nervous."
Coldplay suffered from nerves ahead of their Glastonbury set, too, despite having pulled it off once before in 2005.
"Because it comes quite early in the festival calendar you can't bank on having enough rehearsals to get it right," says drummer Will Champion.
"In the lead-up to Glastonbury, we played five or six festivals, so you get a chance to tweak the set. But it's all basically preparation for the big one."
Bands vs brands
It's not just the bands that suffer from nerves, however. The organisers tend to break a sweat too.
Thirty-one festivals were cancelled or postponed this year, partly due to sluggish ticket sales.
Steve Jenner, CEO of the Virtual Festivals website, says the choice of a headliner can make or break an event.
"When Glastonbury chose Jay-Z in 2007, they had a little blip," he says (the event did not sell out in advance, the final tickets only changing hands when the gates opened on Friday morning).
"Even at that level, the headliners have a big impact.
"The competition is very fierce. So, inevitably, you're going to end up with much more diversity.
"The events will be much more brand-led, so you'll go to the festival that suits your personality. I think the bands will still be paramount, but the emphasis will be the bands fitting into the flavour of the event, rather than just being the biggest bands that will put 70,000 people in there."
To an extent, this already happens - a boutique festival like Latitude which caters to the family market, will schedule an acoustic rocker like Paolo Nutini to close proceedings on the main stage.
Simon Taffe, organiser of the End of the Road Festival, takes a similar approach.
"We don't always go for the big name," he says of the small, independent event, held in Larmer Tree Gardens, Dorset.
Shunning the noisier end of the charts, he focuses on Americana and alternative rock. Headliners this year include Scottish experimentalists Mogwai and eccentric folk musician Joanna Newsom.
"We try to give a chance to a band that might not necessarily headline another festival," says Taffe.
And the approach seems to work: "Half our tickets are sold without even announcing the headliner. A lot of people buy into what we do now. There's a lot of trust."
In essence, the market is splitting in two. At one end of the scale are big bands in big fields: paid for by corporate branding and ticket sales in the tens of thousands.
At the other end of the scale are the niche events - often focusing on a single musical style, and with an eye-catching gimmick (fancy dress at Bestival, a creche at Latitude).
There is general agreement in the pop fraternity about what makes a great headliner, though.
"Lots of hits," says Ed MacFarlane, whose band Friendly Fires has racked up more than 40 festival slots this summer.
"People like something they can belt out the tune to."
Singer-songwriter Patrick Wolf says "an ability to connect to a huge spectrum of people" is essential at the culmination of a day of music.
But one thing can ruin even the best-prepared headline set: the Great British weather.
"I was a little disappointed that it was so wet," said U2's Larry Mullen Jr after the band's rain-drenched Glastonbury set.
"A little bit of rain's OK, but the crowd just seemed to be stuck together."
"I walked out and it was like an ice rink," added Bono.
"I couldn't move - because there was rain all over the place. For a person like myself, who likes to move around, it was interesting.
"I thought, 'stand where you are and just sing'".
You can vote for your favourite headline act of 2011 on the BBC 6 Music Website. The results will be revealed on the Shaun Keaveny Breakfast show on Friday, 16 September.