Keira Knightley to play Anna Karenina in new film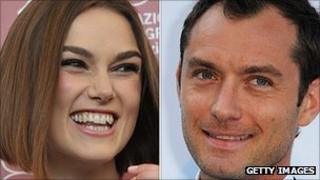 Keira Knightley and Jude Law are to star in a British film adaptation of Anna Karenina, it has been announced.
Oscar-winning writer Tom Stoppard will pen the script and Atonement film-maker Joe Wright will direct the epic romance, based on Leo Tolstoy's novel.
Knightley will play Anna, a married woman who has an affair with a younger soldier. Law has landed the role of her husband, Aleksei Karenin.
The film, which casts Aaron Johnson as Count Vronsky, is due out next year.
Anna Karenina will be Knightley's third collaboration with Wright. She starred in his 2005 film Pride And Prejudice, followed by the Academy Award-winning movie Atonement two years later.
The Working Title production will begin filming in the UK and Russia this month.
"We anticipate that this will be a defining screen version of Anna Karenina," said Tim Bevan, of Working Title Films.
James Schamus, from Focus Features - who will distribute the film, said: "Joe Wright is a master film-maker, and with Tom Stoppard's brilliant screenplay this Anna Karenina will be full of both pageantry and emotion."
Powerful tale
Set in late 19th-century Russia, Anna Karenina is described as a powerful tale that "explores the capacity for love that surges through the human heart, from the passion between adulterers to the bond between a mother and her children".
There have been several film versions of Tolstoy's classic novel, including adaptations starring Vivien Leigh (1948) and Greta Garbo (1935).
In 1997, it was remade with French actress Sophie Marceau and Britain's Sean Bean, as Anna's lover Vronsky.
A British television adaptation, starring Helen McCrory and Kevin McKidd, was shown on Channel 4 in 2000.