Carey Mulligan changes gear in Nicolas Winding Refn's Drive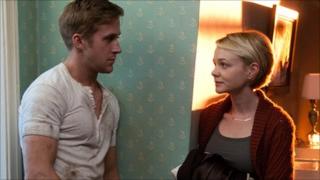 Nicolas Winding Refn's new film Drive has brutal killings, nerve-jangling car chases and bone-breaking violence. So why did fresh-faced Carey Mulligan beg for part in it?
"I'm in a film with guns - which is rare!" says Carey Mulligan of her role in the Danish director's crime thriller.
"I wanted to do something that would be a bit of a stretch," adds the star of An Education and Never Let Me Go, "like playing a mother, and exploring a different genre."
Mulligan plays a Los Angeles mother, Irene, opposite Ryan Gosling's monosyllabic, unnamed, toothpick-chewing loner, a movie stunt driver who moonlights as a getaway driver.
The film, based on the cult novel by James Sallis, won Refn the best director prize at Cannes and is released in the UK this week.
As with Refn's previous works - like prison biopic Bronson and Norse warrior film Valhalla Rising - Drive is notable for its striking imagery and outbreaks of blistering violence.
It is Refn's first American movie, but its pink titles, hyper-real visuals and pulsing electronic soundtrack show he hasn't abandoned his art-house audience.
Such was Mulligan's enthusiasm to work with Refn, she persuaded him to change the script to accommodate her.
"I'd watched Valhalla Rising and loved Nic's work so much," she explains. "But the character in the script didn't suit my kind of casting - she was supposed to be an older Latino woman.
"But I spoke to Nic and we talked about ways of rewriting it so I could be involved.
"Basically I just begged him, and told him that I was obsessed with his films and that I would try really hard to be good if he would let me be in it."
Drive was Mulligan's first film acting job for about a year following Wall Street: Money Never Sleeps.
She then filmed Shame alongside Michael Fassbender, and - after appearing in an off-Broadway play - is now taking on the role of Daisy Buchanan in Baz Luhrmann's remake of The Great Gatsby.
'Fairytale romance'
In Drive, Mulligan's Irene becomes friends with her neighbour (Gosling) after they meet in a lift at their apartment block. He later helps out when she and her young son are stranded by a car breakdown.
Their slow-burning relationship gets complicated when Irene's husband Standard (Oscar Isaac) is released early from prison.
"The idea behind the romance is that it's very innocent," explains Mulligan. "We looked at their relationship like a fairytale: she was a damsel-in-distress and he was the knight in shining armour."
Because of the largely wordless scenes that developed between Gosling and Mulligan, huge chunks of dialogue were stripped from the screenplay.
"It was strange, because most of the film I'm just staring at him, and he's staring at me," recalls Mulligan.
"As well written as the script was, once we got into it it felt our scenes were the peace in the film, and everything else was chaotic and violent."
And violent it is. One scene that sears itself into the memory is where a mobster is dispatched in a lift - just seconds after the film's most tender moment.
Does Mulligan find that kind of thing easy to watch back?
"It was very choreographed. We rehearsed where our bodies were going to go and it became like a dance, and we worked with prosthetics and a double.
"But Ryan took a picture on a phone and sent it to me a couple of days later, just to remind me of the horror!"
Drive is released in the UK on 23 September.