Inbetweeners hold off all box office challengers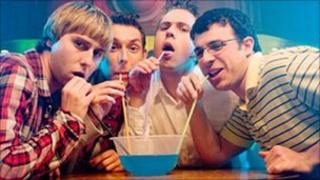 The Inbetweeners Movie is still the UK's top film after retaining its position at the top of the box office chart for the third consecutive week.
The £3.67m it made between Friday and Sunday swelled the E4 comedy spin-off's overall takings to almost £35m.
Newly-released horror films Fright Night and Apollo 18 could only manage seventh and eighth place in the top 10.
And both were trounced by Bollywood release Bodyguard, which entered the chart at five with takings of £839,695.
That total, which included proceeds from two days of previews, put the film below Rise of the Planet of the Apes, One Day and The Smurfs in the chart.
On a screen for screen basis, though, Bodyguard was by far the most profitable, raking in an average of £16,465 from the 51 screens on which it played.
Another new release, teen romance The Art of Getting By, performed very poorly, making just £75,878 from its 126 screens.
That was less than that made by the low-budget British thriller Kill List, which took £87,136 from just 47 screens.
In the US and Canada, domestic drama The Help continued to beat all the competition for the third straight week.
The film, about black maids in 1960s Mississippi, made $19m (£11.8m) over the Labor Day weekend, raising its overall takings to $123.4m (£77m).
It is due for release in the UK on 28 October.
The film's nearest challenger in North America was hostage thriller The Debt, starring Sam Worthington and Dame Helen Mirren.
John Madden's film, about three Mossad agents who abduct a former Nazi in 1960s East Berlin, made $12.6m (£7.8m) between Friday and Sunday.
That was around $2m more than sci-fi shocker Apollo 18, which made its chart debut at three with a weekend tally of $10.7m (£6.6m).