Gary Oldman's Smiley: 'A little sexier, a little crueller'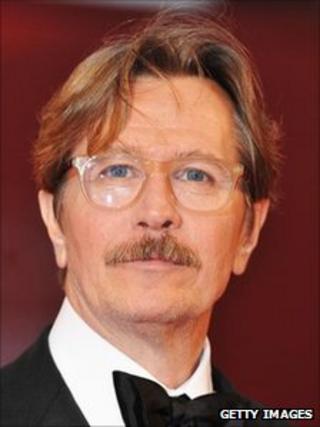 "George Smiley is like Hamlet," Gary Oldman tells me. "There's more than one way to play him."
And with that the "Alec Guinness" question is dispatched. Next.
The character actor who has played Sid Vicious (1986), Lee Harvey Oswald (1991), Beethoven (1994), Pontius Pilate (1998), the Devil (2002) and Sirius Black (2004/2005/2007/2011) is thoughtful and relaxed when being himself.
We're sitting outside on a warm afternoon in Venice. Oldman is sporting a pink shirt, his Commissioner Gordon moustache (he is currently filming the latest Batman movie, The Dark Knight Rises) and a pair of heavy-framed, light brown glasses, which match the colour of his hair. He looks more like a Latin teacher than a movie star.
Which probably has something to do with him landing the part of George Smiley in the soon-to-be-released film adaptation of John le Carre's novel Tinker Tailor Soldier Spy.
It is an unusual lead role in that it requires a circumspect, intelligent persona who is happier out of the limelight, not a brash, showy, scene-grabbing performer.
Oldman shares some of Smiley's precision and perception.
He doesn't waffle or flirt, but tells insightful anecdotes in a casual, "over the breakfast table" manner. Such as how the movie's Swedish director explained his directorial vision of George Smiley to him.
Tomas Alfredson, who made his name with the hauntingly good vampire film Let The Right One In (2008), sat Oldman down and opened a page in le Carre's book.
It describes a scene in which George Smiley is travelling in a car with two colleagues. A bee is trapped in the vehicle and buzzes around their heads.
As the other two frantically flap and duck, the inscrutable Smiley coolly unwinds his window a couple of inches - just enough for the bee to fly out, which it duly does.
"That is my George Smiley," Alfredson told Oldman. A spy whose emotional temperature reflects the Cold War in which he is engaged.
A detached, composed, efficient man, who never overdoes it and achieves results with minimum fuss. And with that one directorial note Oldman was off.
'Sadistic side'
He didn't bother going to MI6 or researching the spy world, he simply went to "the source". Which in this case was the book and its author.
Oldman sat and watched Le Carre as they chatted about George Smiley. And while they talked Oldman clocked le Carre's mannerisms and speech patterns.
After all, as Oldman points out, le Carre was a spy before he took up writing.
The result is a Smiley who is markedly different to the Guinness vintage.
Oldman describes his Smiley as, "a little sexier, a little crueller. There's a bit of a sadistic side to George that we've brought to the fore: he's a disenchanted romantic."
But the "look" has remained. There is the shapeless coat, the 70s hairstyle and the spectacles.
"Oh, the glasses," Oldman smiles. "We spent ages on those. They are his [George Smiley] Aston Martin, his Martini."
Apparently they tried on hundreds of pairs before eventually settling on a pair that makes Smiley look like Robin Day, the legendary Question Time chairman.
Alfredson has been just as fastidious in creating his 1970s period piece. He says he remembers London vividly when he visited in 1972, describing it as an "analogue world" where "time took longer". A point he makes strongly with his direction.
His film is the antithesis of modern thrillers like the Bourne or Bond franchises that are all fast-cutting and non-stop action.
Less frenetic cinema
While they thunder down the entertainment super-highway, Alfredson's movie is glacial, travelling on the inside lane at about eight miles-an-hour.
It is more like HBO's The Wire or the Danish detective TV series The Killing, in that it is very, very slow.
Which I liked, but might frustrate others.
Having also recently seen Steve McQueen's Shame - a movie about sex addiction and siblings - which takes a similarly an unhurried path, I wonder if we are moving into a phase of less frenetic cinema, harking back to the days of Tarkovsky and Fellini.
I hope we see a lot more of Alfredson. He is a terrific film-maker with an outsider's view of the world. He said that he wanted to direct Tinker, Tailor "because it was about lonely people and for some reason I feel lonely and I think I understand the characters".
I suspect that there's more than a bit of George Smiley in Tomas Alfredson.