At a glance: Man Booker shortlist 2011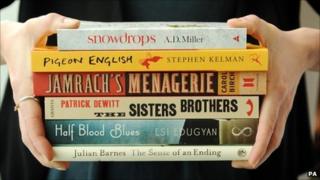 The six shortlisted authors in contention for this year's Man Booker Prize have been announced.
The winner, to be revealed at a London ceremony on Tuesday, will receive £50,000 as well as greatly increased sales.
"We wanted people to buy these books and read them," said former MI5 chief Dame Stella Rimington, chair of this year's judging panel. "Not buy them and admire them."
Here is a guide to the six shortlisted books and their authors.
THE SENSE OF AN ENDING - JULIAN BARNES
About the book: The shortest book on this year's shortlist, The Sense of an Ending is about childhood friendship and the imperfections of memory.
Narrated by Tony Webster, a man who has tried to live a straightforward life, it describes how he and his clique first met Adrian Finn at school.
They all swore to stay friends for life. Now, with Tony middle-aged and divorced, a lawyer's letter throws up some surprises.
About the author: Julian Barnes has been shortlisted for the Man Booker Prize three times, for Flaubert's Parrot (1984), England, England (1998) and Arthur and George (2005).
The 65-year-old is the author of 10 previous novels, three books of short stories and also three collections of journalism.
Barnes, who lives in London, was awarded the David Cohen Prize for Literature in 2011 for his lifetime achievement.
Booker judge Gaby Wood says: "It seems to be the most obvious book on this list. It's a quiet book, but the shock that comes doesn't break stride with the tone of the rest of the book.
"In purely technical terms it is one of the most masterful things I've ever read."
JAMRACH'S MENAGERIE - CAROL BIRCH
About the book: A young boy, Jaffy Brown, is knocked unconscious by a Bengal tiger in the East End of 19th century London. He is saved by the tiger's owner, Charles Jamrach, a purveyor of wild and extraordinary animals.
Jaffy begins working at Jamrach's Menagerie and is given the opportunity to take part in the voyage of a lifetime: to hunt down and bring back a dragon.
About the author: Carol Birch's nine previous novels include Scapegallows and Turn Again Home, which was longlisted for the Man Booker Prize in 2003.
Now 60, she has won the Geoffrey Faber Award and the David Higham Award for Best First Novel.
She lives in Lancashire.
Booker judge Gaby Wood says: "It's set in a very Dickensian world but the language isn't arch, it isn't difficult, it doesn't try hard in any way.
"It does this wonderful trick of evoking that world so well that there's no uncertainty about where it's set, and you're at no remove from it either."
THE SISTERS BROTHERS - PATRICK DEWITT
About the book: Set against the backdrop of the 1850s Californian gold rush, The Sisters Brothers is believed to be the first Western novel to feature on the shortlist.
It features contract killers Eli and Charlie Sisters, who are sent to California to kill Hermann Kermit Warm. But they discover that Warm is an inventor who could make all of them very rich.
About the author: Patrick deWitt is one of two Canadians on the shortlist. Born in 1975 in British Columbia, he has also lived in California, Washington and Oregon, where he now lives with his wife and child.
His first novel, Ablutions, was published in 2009. He also wrote the screenplay for Terri, a feature film starring John C Reilly that premiered at this year's Sundance Film Festival.
Booker judge Chris Mullin says: "The dialogue is wonderfully crisp - think Elmore Leonard - and the humour is rather black - think the Coen Brothers.
"It's also a rather chilling story and it's very gripping from beginning to end."
HALF BLOOD BLUES - ESI EDUGYAN
About the book: Half Blood Blues revolves around the disappearance of black German jazz trumpeter Hieronymous "Hiero" Falk during World War II.
Fifty years later, Hiero's bandmate Sid goes back to Berlin and a mysterious letter brings some long-buried secrets to the surface.
About the author: Canadian Esi Edugyan wrote her debut novel, The Second Life of Samuel Tyne, when she was 25.
Her work has appeared in several anthologies, including Best New American Voices 2003. Now 33, she lives in Victoria in British Columbia.
Booker judge Susan Hill says: "This is a wonderful, vibrant, tense novel about war and its aftermath.
"Its author has brought both the wartime past of a devastated city and its confident reinvention of itself in a new era to life with extraordinary assurance."
PIGEON ENGLISH - STEPHEN KELMAN
About the book: Pigeon English tells the story of 11-year-old Harrison Opoku who, with his mother and sister, is newly arrived from Ghana on a rough London estate.
When a local boy is knifed to death and a police appeal for witnesses draws only silence, Harrison decides to start a murder investigation of his own.
About the author: Debut novelist Stephen Kelman made headlines last year when his manuscript for Pigeon English sparked a bidding war between 12 leading publishers.
A BBC TV dramatisation is now in the pipeline. Born in Luton in 1976, he decided to pursue his writing seriously in 2005.
Booker judge Matthew d'Ancona says: "It's a novel of tremendous confidence that fizzes with doubts and anxieties about the way we live now.
"The fact that it was written before the riots of this summer is neither here nor there, but it does read in certain ways as a form of grim prophecy.
"But the main reason to read it is to enjoy a novelist in the prime of his writing delivering a tale that you simply cannot put down."
Read our interview with Stephen Kelman here.
SNOWDROPS - A D MILLER
About the book: In Moscow slang, a snowdrop is a corpse that lies buried or hidden in the winter snows, emerging only in the thaw.
In this psychological drama Moscow is seen through the eyes of Nick Platt, an English lawyer living in the city during the Russian oil boom.
When he rescues two sisters from a purse snatcher on the subway, it sets in motion a chain of events that take him from the Black Sea to the Arctic.
About the author: Born in London in 1974, Miller studied literature at Cambridge and Princeton and began his journalistic career writing travel pieces about America.
For three years he was The Economist's correspondent in Moscow and he is now its Britain editor. The former television producer lives in London and Snowdrops is his first novel.
Booker judge Dame Stella Rimington says: "It's an enthralling story, well-told and spiced with vivid descriptions of Moscow and some beautifully-drawn characters."
Read our interview with A D Miller here.