PJ Harvey favourite to win Mercury Prize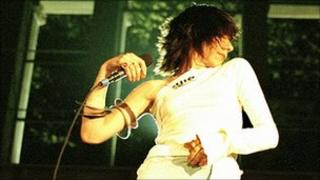 PJ Harvey could become the first person to win the Mercury Music Prize twice, with her record Let England Shake.
Her album, which was inspired by the horrors of war, is the bookmakers' favourite, with odds of 6/4.
Harvey won in 2001, when the ceremony was held on 11 September, but was unable to accept the prize in person because she was on tour in the US.
This year's winner will be revealed on Tuesday. Other nominees include Adele, Tinie Tempah, Anna Calvi and Elbow.
Calvi is nominated for her self-titled debut album. Speaking to BBC 6 Music at rehearsals for the ceremony, the singer-songwriter admitted to having pre-show nerves.
"My biggest fear is that I would win and then I would stand up to walk to the stage and fall over," she said.
Speaking on the red carpet just before the ceremony, the singer told the BBC she would split the £20,000 prize with her bandmates.
Harvey said she finds Adele's voice "very moving" and would be "happy if she won".
Dressed in a full-length white dress with a white leather bodice shaped like a strait-jacket, the singer said her dress reflected her nominated album Let England Shake.
"I worked very closely with a designer who's a friend of mine and she listened a lot to the music and talked a lot about what felt right for the band and myself to be wearing on stage and we created three or four different outfits, one of which I'm wearing tonight," Harvey said.
Speaking to reporters on the red carpet Tempah, who was nominated for his debut record Disc-Overy, said he thought he had a "pretty good chance" of winning.
Eleven of the 12 nominees will perform at the ceremony, which is being televised on BBC Two.
Adele, who recently cancelled dates on her UK tour due to a chest infection, will not be taking to the stage and avoided the red carpet at London's Grosvenor House Hotel.
'Air of confidence'
The judges will then retire to choose the winner, although their decision will not be based on the evening's performances.
Rapper Ghostpoet is nominated for his album, Peanut Butter Blues and Melancholy Jam. He told 6 Music he was happy to be nominated.
"Anyone who's in it wants to win it," he said. "But I feel if I don't win, it's not the end of the road.
"I can push on and do bigger and better things on the back of being nominated."
His sentiments were echoed by Joseph Mount, frontman of alternative pop outfit Metronomy.
"We've just come back from South America and everyone who interviewed us the mentioned the Mercury," he said. "It gives you an air of confidence."
Bury five-piece Elbow have already had such a confidence boost, after winning the prize in 2008 with The Seldom Seen Kid.
Frontman Guy Garvey said it was an honour to be nominated again, for this year's Build A Rocket Boys!, but added that he did not expect to win.
"It's not that I don't want to," he said. "Of course it would be lovely.
"But at the same time, knowing what it did for us, I'd love to see it happen for some of the other bands that are nominated this year.
"It started a snowball rolling that's still getting bigger. I'd love to see that happen for Anna Calvi or Everything Everything."
The Mercury Music Prize ceremony will be shown on BBC Two from 22:00 BST