Fred West drama Appropriate Adult impresses critics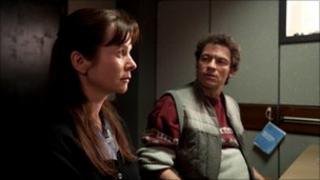 ITV1 drama Appropriate Adult, starring The Wire's Dominic West as killer Fred West, has earned rave reviews.
The Telegraph's Serena Davies said his performance in part one of the two-part programme had been "a Bafta shoo-in".
According to the Daily Mirror's Jim Shelley, Emily Watson was a "standout" as Janet Leach, the social worker who sat in on West's police interviews.
ITV said it had received two complaints about the drama, which drew an average audience of 4.4 million viewers.
That compared with the 6.5 million who watched Inspector George Gently on BBC One, broadcast at the same time on Sunday night.
Appropriate Adult - described as "calm, measured, real, haunting and terrible" in The Guardian - tells the story of Gloucester serial killer West through the eyes of Janet Leach.
Ms Leach was brought in by police as West's "appropriate adult" - a volunteer brought in to support young people and "vulnerable adults" in police custody.
In her five-star review, the Telegraph's Davies said the programme "suggested how manipulative and persuasive West could be".
Dominic West's "look of evil... created a shocking sense of meeting the killer himself", she added.
'Beautifully done'
Writing in the Guardian, Sam Wollaston also had praise for Monica Dolan's "convincing and terrifying" portrayal of Fred West's wife Rosemary.
In his four-star review for The Times, meanwhile, Andrew Billen praised writer Neil McKay's use of banality in his script.
"When it comes to putting evil back in its box, banality is the best put-down ever devised," he said.
The Independent's Tom Sutcliffe praised the drama's grip. However, he said he felt it had missed a trick.
In his opinion, Appropriate Adult - which concludes next Sunday - "missed an opportunity to question our appetite for atrocity, rather than just feed it".
Speaking to BBC Breakfast on Monday, Neil McKay defended the programme, saying he hoped it was "restrained and sober and thoughtful".
"Dramas have been made about the Holocaust, about the Vietnam War, about 9/11," he said.
"It's not a matter of whether drama can deal with these subjects. It's a matter of how."
In March, West's daughter Anne Marie Davis said the broadcast would cause "unimaginable distress" to the families of the "young girls" her father murdered.