Anish Kapoor designs mobile concert hall for Japan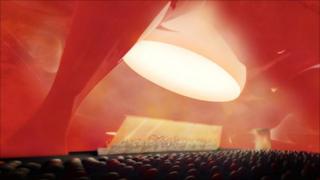 Sculptor Anish Kapoor is designing a mobile concert hall to bring music and arts to the region of Japan hit by March's earthquake and tsunami.
The hall, seating up to 700 spectators, will be a "pneumatic structure" so that it can be inflated quickly with air.
Commissioned by Switzerland's Lucerne festival, the structure will be built in collaboration with the Japanese architect Arata Isozaki.
A programme of events is scheduled to begin in spring next year.
The project is titled Ark Nova - A Tribute to Higashi Nihon. Higashi Nihon was the area struck by the earthquake and tsunami on 11 March this year.
"It's obvious that we can't undo all the terrible pain and suffering," said Michael Haefliger, executive director of the Lucerne festival.
"But through music and art we want to give the people in the region new hope and promise."
The concert hall will be transported to various locations in the devastated region. Its programme will include classical music, jazz, dance and multimedia projects.
Events are expected to be funded by sponsors and patrons so that tickets will be free for local people.
Born in Bombay, Turner prize-winner Kapoor has lived and worked in London since the early 1970s.