Jonathan Ross pulls in 4.3m viewers to debut ITV1 show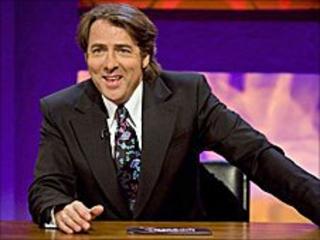 Jonathan Ross drew a respectable 4.3m viewers for the debut of his new ITV1 chat show, initial figures show.
The hour-long Jonathan Ross Show began at 21:45 BST, following ratings winner The X Factor and the results show of Simon Cowell's Red or Black?
Ross, who announced his departure from the BBC in January 2010, drew around 21% of viewers, the largest share of the audience at that time.
Critics were lukewarm, saying ITV had made few changes to Ross's BBC format.
"Jonathan Ross returned to prime-time television tonight with a new chat show that looked remarkably like his old one - and, well, made a pretty good fist of it," wrote the Telegraph's Serena Davies.
"Different channel, same old show!" decried the headline from Daily Mail reviewer Sarah Bull.
"Minus the Four Poofs and a Piano and the bright violet colours, the show if anything looks classier, but the content is almost identical to its BBC predecessor," commented Metro Online.
Runaway success
The Jonathan Ross Show - which drew a peak audience of 4.6 million - saw the presenter interview Hollywood actress Sarah Jessica Parker, singer Adele and Formula 1's Lewis Hamilton.
Competition for viewers included Channel Five's Celebrity Big Brother, which took 1.5m viewers and 7.6% of the audience in an identical timeslot, C4's Million Pound Drop and BBC Two's Proms coverage.
BBC One coverage at the time included the end of John Bishop's Britain, BBC News and the first half of Ricky Gervais film Ghost Town, and hovered around 12.5% of the audience share.
However, the runaway success of the night was talent show The X Factor, which continues to cement its flagship status on ITV1 with 11.1 million viewers.
The final episode of Friday Night with Jonathan Ross on BBC One was watched by 4.6m viewers in July 2010 - easily the most watched episode of the show's run that year, which pulled in an average of 3.1 million each week.