Film-maker Steven Soderbergh insists he is not retiring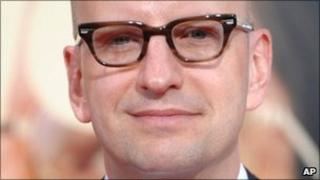 Oscar-winning director Steven Soderbergh has denied reports that he is retiring from film-making.
"It's less dramatic that it sounds - it's just a sabbatical," the 48-year-old director told reporters at the Venice Film Festival.
In an interview on US radio in March, Soderbergh appeared to suggest that his next two films would be his last.
"When you see those athletes hang on one or two seasons too long, it's kind of sad," he told Studio 360.
However, speaking in Venice, where his latest film Contagion is featured in competition for the Golden Lion, he dismissed rumours that he was giving up film-making to paint, saying he was merely taking a break.
"I feel I need to recalibrate, so I can discover something new," he told The Observer, echoing words he used in a BBC Radio 4 interview in 2009.
"I'm out of ways of telling art."
Cannes breakthrough
Soderbergh became the youngest winner, at the age of 26, of the Palme d'Or at the Cannes Film Festival for his 1989 film Sex, Lies, and Videotape, starring Andie MacDowell.
Ten years ago, he was nominated for the best director Oscar for both Traffic and Erin Brockovich.
But, speaking in March, he said: "When you reach the point where you're like, 'if I have to get into a van to do another scout I'm just going to shoot myself', it's time to let somebody else who's still excited about getting in the van, get the van."
In Venice on Saturday, Soderbergh gave no indication of how long the sabbatical may be, although reports suggest it could be as long as five years.
The director was joined by actors Matt Damon and Gwyneth Paltrow for the world premiere of his new film Contagion in Venice.
A thriller, about a global pandemic - widely linked to Sars - and peopled with star names, was given a positive reception at the annual film festival.
The cast also includes Jude Law, Laurence Fishburne and Kate Winslet.
"It's very helpful to have movie stars playing as many of these roles as you can, because you're throwing so many characters and so much information at the audience it's very helpful for them to get a sort of reference point," he told reporters in Venice.
"There's a reason that movie stars have existed since the beginning of cinema.
"It's good for audiences - they like to have people they can identify with."
Prior to his sabbatical, Soderbergh has at least three films to complete, including a Liberace biopic, with Michael Douglas and Matt Damon, and a film version of The Man from U.N.C.L.E. with George Clooney.
Haywire, an action thriller starring Antonio Banderas and Michael Fassbender, is due to be released in the US in January.