Keira Knightley caught between Freud and Jung in Venice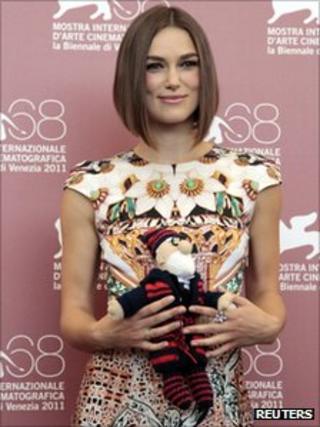 British actress Keira Knightley has brought more glamour to Venice as the film festival reaches its third day.
The 26-year-old is in the Italian city to promote A Dangerous Method, in which she plays a troubled young patient of the psychiatrist Carl Jung.
Knightley told reporters it had been "great fun" to portray a hysteric.
"I'm obviously crazy anyway, so I drew on that," joked the star, who arrived at Friday's press conference wearing a patterned Mary Katrantzou dress.
Michael Fassbender plays Carl Jung in David Cronenberg's film, while Viggo Mortensen plays Jung's mentor, Sigmund Freud.
At a press conference on Friday, director Cronenberg said he had sought to make "an elegant film that trades on emotional horror but loses none of its power to seduce".
Early reviews have praised Knightley's performance, with the Daily Telegraph's critic saluting "a full-on portrayal that is gutsy and potentially divisive".
But the Guardian's Xan Brooks had reservations, calling the drama a "heartfelt, well-acted but curiously underwhelming slab of Masterpiece Theatre".
A Dangerous Method is written by Christopher Hampton, who adapted it from his 2002 play The Talking Cure.
It is one of 22 films in contention for the Golden Lion award at this year's festival, which continues until 10 September.
Fans have already seen George Clooney, Kate Winslet and Madonna walk the red carpet in support of their latest films.