Cher berates 'bigots' attack on son's role in TV show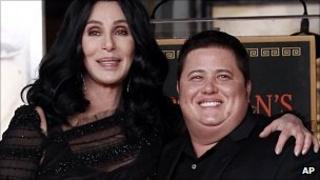 Cher has criticised the "stupid bigots" who have attacked the casting of her transgender son, Chaz Bono, on US show Dancing With The Stars.
The singer defended Bono, who underwent a female-to-male sex change last year, saying "it took guts" to participate in the celebrity ballroom dancing show.
"Chaz is being viciously attacked on blogs and messageboards about being on DWTS!" she said via her Twitter page.
She urged fans to pledge their support for Bono on other social media sites.
Cher wrote: "I support him no matter what he chooses to do. It took courage to do DWTS!"
She added that "mothers don't stop getting angry with stupid bigots" who hurt their children, but said she was sure the "vast majority of people will love Chaz" on the show.
Bono replied to the comments on his Twitter page saying: "Thanks for all your support mom. The haters are just motivating me to work harder and stay on DWTS as long as I possibly can."
'Primetime first'
Bono, 42, has been the target of online jokes and hate messages since Monday's announcement that he would be taking part in the new series of Dancing with the Stars, which begins on 19 September.
Some fans have said they will no longer watch the show - which is one of the most popular programmes in the US - while he is a contestant, while some conservative groups have called for a boycott.
Dan Gainor, of the Culture and Media Institute, called Bono's casting "a ridiculous, agenda-driven move" by the show's producers.
"This is the latest example of the networks trying to push a sexual agenda on American families," he said.
However, Dancing With The Stars' executive producer Conrad Green said viewers should watch the new series before passing judgment.
He added the show had no agenda other than entertainment and was seeking to represent a range of people.
"I hope that a lot of the people who appear to be upset at the moment will give him a chance and maybe realise it's not quite as bad as they think," he said, in an interview with AP.
The Gay and Lesbian Alliance Against Defamation praised the casting of both Bono and gay TV stylist Carson Kressley on the show, calling it "a primetime first."
"Chaz Bono joining the cast of a series like Dancing with the Stars is a tremendous step forward for the public to recognise that transgender people are another wonderful part of the fabric of American culture," Herndon Graddick, senior director of programmes, said.