Inbetweeners stay top of UK box office chart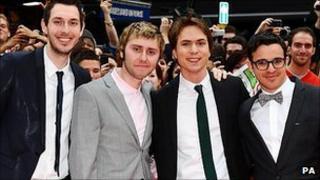 The Inbetweeners Movie comfortably held off competition to stay at the top of the UK and Ireland box office chart.
The spin-off from the E4 comedy series £5.7m made in its second weekend, raising its total income to £25.9m.
The film is now the fastest-grossing live action comedy in UK box office history, ahead of The Hangover: Part II which took £21.01m in two weekends.
The adaptation of David Nicholls' bestselling novel One Day starring Anne Hathaway opened at two with £2.2m.
That figure included £745,461 taken from early previews.
Prequel Rise of the Planet of the Apes fell one place to three with £1.7m, while The Smurfs held firm at four with £1.5m
There were two other new entries in the Top 10, including the fifth instalment of horror franchise Final Destination at five.
The latest attempt to bring Robert E Howard's Conan The Barbarian to the big screen opened at eight with a disappointing £622,268, including £207,470 from previews.
Sci-fi western Cowboys & Aliens was at six, with Harry Potter and the Deathly Hallows: Part II at seven.
The final instalment in the fantasy series made £765,191 over the weekend, bringing its total takings in the UK and Ireland to £70.6m.
Family films Spy Kids: All The Time In The World and Mr Popper's Penguins completed this week's Top 10.