Release date set for 'lost' Beach Boys LP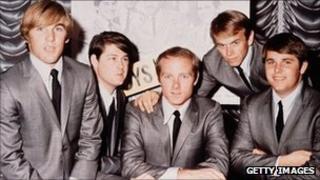 The original recordings for the Beach Boys' legendary "lost" album Smile are to be released this autumn, 44 years after it was first due to come out.
The Smile sessions were recorded in 1966, but the album was left unfinished after the group's co-founder Brian Wilson suffered an emotional breakdown.
It would have been the follow-up to the group's Pet Sounds, widely regarded as one of the greatest albums ever.
The Smile Sessions will be available from 31 October.
The sessions were recorded in 1966 and early 1967. Some songs were recorded simultaneously with Pet Sounds.
"Cousin Brian was at his creative peak during those sessions," said singer Mike Love. "I'm unaware of anything that comes close in pop music."
Brian Wilson's eccentricity during the recording sessions have gone down in the band's folklore.
Four of the tunes were written inside an 80-square foot sandbox in Wilson's living room, installed to "recreate the feeling of being at the beach and the ocean".
For the track Vegetables session musicians harmonised on various foods, including a carrot munched on by a passing Paul McCartney.
During the song Fire - part of a planned 'Elements' suite - Wilson set a studio bucket alight and sent out to a toy store for fire helmets for the orchestra to wear.
The project was shelved amid Wilson's punishing work schedule and drug use, inter-band bickering and friction between the group and their label.
Some of the Smile songs subsequently appeared in different forms on singles, later albums and on bootleg recordings.
In 2004 Brian Wilson re-recorded the album for a solo release, but the original sessions remained in the vaults.
The forthcoming release will be "an approximation of what was intended to be the completed Smile album", record label EMI said.
A box set will also include alternative takes, song drafts and studio chatter.