US blues musician David 'Honey-Boy' Edwards dies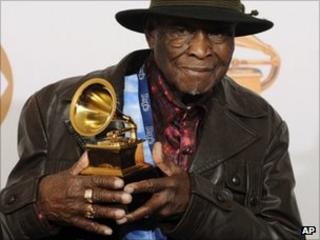 US blues musician David "Honey-Boy" Edwards has died at his home in Chicago at the age of 96, his manager has said.
Music historians say he was the last direct link to a unique generation of blues musicians and the last of the great pre-war bluesmen.
Known for his far-ranging travels, Edwards was still playing about 70 shows a year in his 90s.
He won a 2008 Grammy for traditional blues and received a Grammy Lifetime Achievement award in 2010.
Among his most famous songs were Just Like Jesse James, Long Tall Woman Blues and Gamblin' Man.
Legendary story-teller
The BBC's Peter Bowes, in Los Angeles, says Edwards' guitar-playing style was gritty and edgy.
Born in 1915 in Shaw, Mississippi, Edwards learned to play as a child and left home at the age of 14 to travel with some of the great Delta Blues musicians of the 1930s and 40s, including Howlin' Wolf and Little Walter. He started playing professionally, at age 17, in Memphis.
His manager said he had a photographic memory of every detail of his life and told legendary stories. Edwards, he has recounted, described witnessing the moment when bluesman Robert Johnson drank the glass of poisoned whisky that killed him at the age of 27.
"Blues ain't never going anywhere," Edwards told AP in 2008.
"It can get slow, but it ain't going nowhere. You play a lowdown dirty shame slow and lonesome, my mama dead, my papa across the sea I ain't dead but I'm just supposed to be blues.
"You can take that same blues, make it uptempo, a shuffle blues, that's what rock 'n roll did with it. So blues ain't going nowhere."
Edwards earned his nickname "Honey-Boy" from his sister, who told his mother to "look at honey boy" when he stumbled as he learned to walk as a toddler.