Design Museum adds red phone box to collection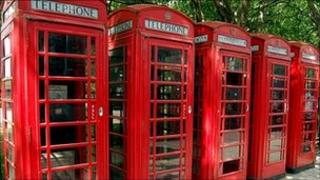 The Design Museum in London has added the red telephone box and traffic lights to its collection of classics.
The phone box, designed by Sir Giles Gilbert Scott, remains a familiar sight on UK streets and celebrates its 75th anniversary this year.
The lights, redesigned by David Mellor in 1965, are also still in use.
The museum's This Is Design exhibition celebrates highlights from the its collection, including the Anglepoise lamp and UK road signs.
Jubilee kiosk
The red phone box was introduced in 1936 to commemorate the Silver Jubilee of King George V's coronation
It became known as the "Jubilee Kiosk" and was the first standard telephone box to be installed across the UK.
Designer GScott was an architect known for his work on buildings including Liverpool Cathedral and Battersea Power Station.
Renowned British designer David Mellor is known for his work with cutlery and was described by Sir Terence Conran as "Britain's greatest post-war product designer".
In 1965, he was commissioned by the Department of the Environment to redesign the national traffic light system.
His impact on the average British street was also felt in his designs for street lighting, bus shelters, public seating and litter bins.
The Design Museum is due to relocate from its current home at Shad Thames to the former Commonwealth Institute building on Kensington High Street, west London in 2014.