Downton Abbey: War, ratings and blistering one-liners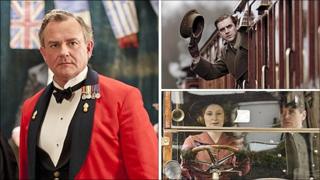 Period drama Downton Abbey proved one of the big television hits of 2010, regularly attracting audiences of nearly 10 million viewers.
The ITV1 series is poised to return to its lucrative Sunday evening slot after The X Factor, and hopes are high that the saga will spin further ratings gold.
Downton's executive producer Gareth Neame has boldly declared that the drama has the legs to run for "years and years" and into several series, taking the story of the Crawley family and their household into the 1930s.
But for the moment, the action in and around the Yorkshire stately pile resumes two years into World War I, which is pulling Downton's well-ordered fabric to pieces.
Maids are serving in the dining room as their male counterparts have gone to the front, while the Crawley daughters are taking up driving and nursing to do their bit for the war effort.
As the conflict takes its toll, it is clear that emotions will run very high as the series pans out.
The show's actors are more restrained about the possibility of reprising their roles for several series.
Rob James Collier, who plays footman-turned-soldier Thomas Barrow in the show, says: "When Julian [Fellowes, Downton creator] set out to write it he was going to do it in three parts, which is an attractive package.
"I'm not going to think beyond that. Whether it will go on because of its early success, I'm not sure," he adds.
Actor Brendan Coyle, the Earl of Grantham's valet John Bates, also expresses reservations about Downton's long-haul chances and sticking with his role.
"It's as long as the storytelling remains fresh," he explains. "Audiences tend to decide when a series is over."
It was the viewing public who gave Downton its greatest endorsement during the last series, ensuring it would come back for a second run.
Highbrow
Jim Carter, who plays fastidious, devoted butler Mr Carson says audiences found the series more "accessible".
"A common theme I get from people watching Downton is that they didn't think costume dramas were for them - they might be a bit BBC, highbrow and off-putting. This is on ITV so they thought they'd give it a go."
He adds that the drama's high production values and ability to tell a story has added to its lustre - not to mention its gentle tenor following the frenzy of The X Factor on Sunday evenings.
Hugh Bonneville, who plays the Earl of Grantham, agrees with the assessment, saying Downton "has gone beyond the traditional costume drama audience".
But seated in the splendour of Highclere Castle in Berkshire, the actor maintains that the main star of the show is the splendid house which forms the real-life backdrop for Downton.
About half the scenes are filmed in the house's numerous rooms and outdoor areas, with sequences in the servants' quarters set in a purpose-built lot at Ealing Studios.
Bonneville says the house is the "main character" of Downton and "the bedrock around which everyone else revolves".
"We may all change but it's likely to stand for years. It's a formidable character, the one thing that doesn't change."
Irish actor Allen Leech, who plays chauffeur Tom Branson, also maintains that Downton - or Highclere - "has its own character".
"I remember the first time I drove up to it - it's breathtaking, so steeped in history and makes our jobs as actors easier."
There is another treasure who has made a considerable impact in the first series and promises to maintain such a presence in the new run of Downton.
Humdingers
Dame Maggie Smith plays the imperious Violet, Dowager Countess of Grantham, who has built up a reputation for delivering a barrage of blistering one-liners, both withering put-downs and humorous asides.
"Julian quite rightly gives her the humdingers and you spend the entire scene teeing them up and then letting her get on with it," says Bonneville, her on-screen son.
Michelle Dockery, a younger member of the cast who plays Lady Mary Crawley - Violet's granddaughter - says Dame Maggie is "incredibly caring and amazing to work with".
"She makes it look so easy and effortless. But there's no way to try to achieve what you see her doing. It's the little details that she puts into a scene, even adding something that's not written in it," adds the actress.
The impact of the series, which has become a hit in the US and collected 11 Emmy nominations, is not lost on Dame Maggie, herself a winner of two Oscars.
"I actually do very little television, so I've never been in anything that's been this big before," she has said.
The show's prospects of resuming its place as a Sunday night stalwart and capturing impressive viewing figures once again seem very favourable.
Downton Abbey begins on ITV1 on Sunday 18 September at 21:00 BST