The Hour writer admits 'anachronisms'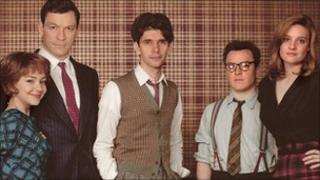 The writer of The Hour has admitted some of the words and phrases used in the BBC drama would not have been said in the period in which it is set.
In an email to The Independent, Abi Morgan said she "holds [her] hands up" to any historical errors in the script.
"But I am a dramatist," she continued. "I elaborate. I imagine."
The writer was responding to criticism from the newspaper that phrases like "bottled out" and "note to self" would not have been said in 1956.
"When a line of dialogue jars and is seen as an anachronism, one holds one's hands up," Morgan wrote.
"But more because it has taken the audience out of the drama," she went on. "The Hour is escapism and for that moment the escapism hasn't worked."
Writing in the newspaper, columnist David Lister said "anachronisms in speech, dress and social manners" in the show had been "distracting and surprising".
Despite these, however, Lister said the drama - which comes to end this Tuesday on BBC Two - was still "the best thing currently on TV".