Drama The Help cleans up at US box office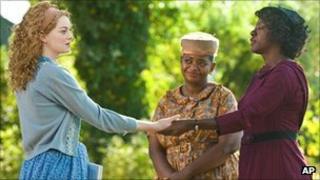 Heart-tugging drama The Help has risen one place to top the US and Canada box office after taking an estimated $20.5m (£12.4m) over the weekend.
The adaptation of Kathryn Stockett's 2009 novel tells of the relationship between white women and their black housekeepers in 1960s Mississippi.
It bumped blockbuster Rise of the Planet of the Apes down one place to second, after two weeks at the top.
The prequel to the original 1968 film has now taken $133.8m (£81.3m).
The Help, starring Emma Stone and Viola Davis, entered the chart last week in second place.
"It is a rare feat to see a film not open at number one and then become number one," said Dave Hollis of Disney, the movie's distributor.
The Help's strong performance was enough to hold off four new releases which all had underwhelming openings.
Spy Kids: All the Time in the World debuted the highest, charting at three with estimated takings of $12m (£7.3m).
The fourth film in the family franchise was presented in "4D", with scratch-and-sniff cards handed out to audiences so they could smell the same things as the characters.
But the gimmick failed to bring in crowds, with box office takings just over a third of the $33.4m (£20m) the third Spy Kids film made on its debut in 2003.
Two remakes of 1980s films - Conan the Barbarian and Fright Night - opened in fourth and fifth place respectively.
Elsewhere One Day, a romantic drama based on the David Nicholls best-seller, opened at nine with a modest three-day haul of $5.1m (£3.1m).