Ridley Scott to direct new Blade Runner film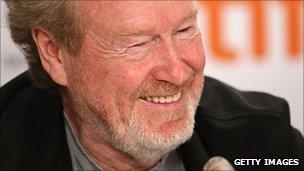 British director Sir Ridley Scott is to make a new instalment of his 1982 cult sci-fi Blade Runner, producers have announced.
Alcon Entertainment said the film will be a prequel or sequel, rather than a remake of the Philip K Dick adaptation.
Based on the novel Do Androids Dream of Electric Sheep?, it starred Harrison Ford as a police officer who hunts down genetically engineered lifelike robots.
The film was not a box office hit, but later became a cult classic.
Set in Los Angeles in 2019, its vision of a dystopian future was influential on many later films.
"It would be a gross understatement to say that we are elated Ridley Scott will shepherd this iconic story into a new, exciting direction," producers Broderick Johnson and Andrew Kosove said in a statement.
"This is once in a lifetime project for us."
"Everything Ridley does as a filmmaker is fresh. I believe he sees an opportunity to create something that's wholly original from the first Blade Runner," he said.
The producer added that filming could begin in 2013 at the earliest, with the movie not in cinemas until at least 2014.
Although no hint has been given about casting yet, Kosove said it was unlikely Ford would return in his role as Rick Deckard.
"In no way do I speak for Ridley Scott, but if you're asking me will this movie have anything to do with Harrison Ford? The answer is no.
"This is a total reinvention, and in my mind that means doing everything fresh, including casting."
The project will be the second time that Sir Ridley, who directed Robin Hood last year, has gone back to his sci-fi roots.
Next year sees the release of Prometheus, an outer space adventure loosely connected to his 1979 sci-fi horror hit Alien.
Related Internet Links
The BBC is not responsible for the content of external sites.