NME magazine sales continue to decline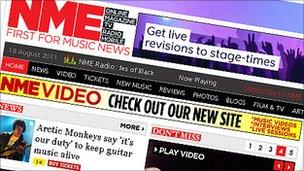 Sales of weekly music magazine NME have dropped for the second six months in a row to under 30,000, figures have revealed.
A report conducted by the Audit Bureau of Circulations (ABC) showed the magazine's circulation fell 14.3% compared with the same time last year.
It was the biggest faller among other music and film magazines.
Mojo remains the largest monthly music magazine, despite shedding 4.8% in sales compared with last year.
Rock magazine Kerrang! saw a 0.2% boost in the last six months, but compared with the same time last year only suffered a decline of 2.2%.
Sales of Q fell by 10.1% on the previous year, followed by Total Film which lost 5.6% in the same period.
Sales for NME, which was founded in 1952, have now fallen to below 30,000 despite the magazine relaunching its format, front cover and logo last year.
NME publishing editor Paul Cheal said: "Across various platforms, the NME brand reaches over one million people each week.
"The UK is unique in having a weekly music press and the NME plays a very important role in the promotion of new music - as many agents, promoters and labels will testify.
"While the circulation may be down slightly on previous years, the audience that NME magazine serves still consists of the most passionate and influential music fans in the world. Where they lead in terms of music taste, others follow."
In its infancy NME began as a newspaper and became the best-selling British music newspaper in the 1970s.
It started to migrate towards magazine publishing during the 1980s and its website launched in 1996.
With estimated traffic of around 5m users a month - it is one of the most popular magazine sites in the UK.
Related Internet Links
The BBC is not responsible for the content of external sites.