Phil Spector denied murder appeal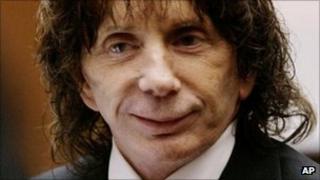 A US court has refused to allow music producer Phil Spector to appeal against his 2009 murder conviction.
The 71-year-old was jailed for 19 years for shooting actress Lana Clarkson at his California home in 2003.
His lawyers claim he was not given a fair trial because Los Angeles Superior Court Judge Larry Paul Fidler prejudiced the case.
In May an appeals court refused to consider the issue, saying there had been enough evidence to convict him.
Lawyers for Spector said the judge had turned himself into a witness by allowing prosecutors to use pictures of him in closing arguments.
They also claimed he should not have allowed jurors to watch a video - filmed at a hearing at which the jury were not present - of him explaining forensic evidence.
The ruling upholds an earlier decision by a three-judge panel to turn down the appeal request.
In May, an appeal court rejected a defence claim that the jury should not have heard testimony about gun-related incidents from five women.
The panel found the evidence was justified "to prove that the cause of Clarkson's death had neither been an accident nor a suicide".
Regarded as one of the most influential figures in pop music history, Spector worked with such artists as the Beatles, the Rolling Stones and the Righteous Brothers.
A TV film about Spector, starring Al Pacino as the producer and Helen Mirren as his lawyer Linda Kenney Baden, is currently been filmed.