James Patterson tops Forbes author list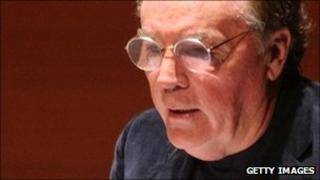 Thriller writer James Patterson is the world's highest-paid author after earning $84m (£50.9m) in the past year, according to Forbes magazine.
His estimated earnings dwarf those of second-placed author Danielle Steel, who made $35m (£21.2m) from May 2010 to April 2011, the survey says.
Forbes used sales figures to compile the list, as well as input from literary agents, managers and editors.
There was no place in the Top 10 for Harry Potter author JK Rowling.
Prolific Patterson - who often works with co-writers - released 10 books in the past year as part of a 17-book deal with publisher Hachette reportedly worth $150m (£90.7m).
The 64-year-old writes novels for the teenage market as well as murder mysteries and e-books.
A new film based around his detective character Alex Cross, starring Tyler Perry, is due for release next year.
I, Alex Cross, follows 1997's Kiss the Girls and 2001's Along Came a Spider, in which Patterson's hero was played by Morgan Freeman.
Horror writer Stephen King is ranked at number three with earnings of $28m (£16.9m), while mystery writer Janet Evanovich is fourth with $22m (£13.3m).
Twilight author Stephenie Meyer and adventure writer Rick Riordan each earned an estimated $21m (£12.7m), which saw them ranked joint fifth.
There is no place in the Top 10 for Harry Potter author JK Rowling, who, according to Forbes, earned just $5m (£3m) over the year.
According to Forbes' Jeff Bercovici, though, the sale of electronic editions of her books on the new Pottermore website would ensure higher earnings this year.
"Until now, Rowling has declined to sell any electronic editions of her books, forsaking her share of a category that nearly tripled in US sales last year to $441m [£267m]," he wrote.