Local TV: Will it be worth watching?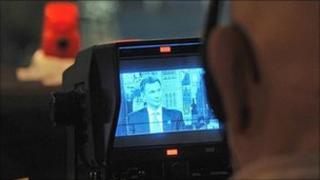 In four years, if government plans come to fruition, 50 locations up and down the UK will have their own TV channels. Will they be worth watching?
TV stations broadcasting news and entertainment to specific towns and cities are nothing new in many countries.
In the UK, though, attempts to set up local TV stations have largely fallen flat.
Now Culture Secretary Jeremy Hunt is making a concerted attempt to establish dozens of stations.
Under his plans, the stations would broadcast on channel eight on Freeview in England and Northern Ireland, and on a different channel in Scotland and Wales.
The first 20 would go on air in 2013 and would broadcast for a minimum of an hour a day.
There are big questions over whether these stations will attract enough money from advertisers to survive.
To attract advertisers, they need viewers. And to get viewers, they need decent programmes that will compete with national channels.
Asked what would be on, Mr Hunt mentions local news and says local democracy will play "a very big part".
He says the televised leaders' debates invigorated the general election campaign in 2010, and believes local TV could have the same effect in individual constituencies and at local elections.
He also mentions sport, with the prospect of local TV stations signing deals with big football clubs to provide behind-the-scenes coverage.
"I don't think we'll have any shortage of things to put on these stations," he says.
But how can they compete with the big budgets and high production values of the national networks?
"They'll be unique because the national stations won't be covering those local stories," Mr Hunt replies. "That will be their big, big selling point."
Debra Davis of City TV, which is hoping to run channels in Birmingham and possibly beyond, is inspired by success stories in her native Canada.
One channel in Toronto was "edgy, fun and exciting", she says.
Asked whether a flagship programme could be a live magazine-style prime time show with talented young presenters, she replies: "Yes, absolutely.
"There's no way that we can afford to do a CSI, for instance, or Downton Abbey," she continues. "I'm under no illusions.
"But I can promise audiences that they will be impressed with the talent that exists locally.
"Beyond the news and current affairs offering, I think Birmingham has the capacity to have a strong schedule of arts, entertainment, music, interview shows, magazine shows, sports [and] children's shows."
YourTV, meanwhile, is hoping to run channels in Birmingham, Stoke, Liverpool and Sheffield.
"We're very keen to involve the audience as much as possible," says director Lin Glover. "We're called YourTV for a reason."
Programmes would be about people and places that viewers know, she says, citing the popularity of shows that rely on user-generated footage such as You've Been Framed.
"ITV, and the BBC too on a regional level, have lost that character and personality in the output, and that's basically what local TV can do," she says.
The last 20 years of British broadcasting have seen a number of attempts to set up local stations.
One of them - Birmingham station Sangat TV, available on Sky or online, which is run on a shoestring by four Sikh men - has been praised by Mr Hunt.
More nimble and closer to the local community, it scooped major broadcasters with its footage of the recent riots in the city.
Seven, a cable channel operating in north Lincolnshire since 1998, is one of the longest-running local stations, with a catalogue of programmes that look highly professional.
Yet most local stations have struggled.
Live TV, a cable network set up in 1995 and best remembered for topless darts and the news bunny, ran a chain of local stations in cities including Birmingham, Edinburgh and Manchester.
Peter Brookes, who ran the Birmingham channel and now lectures in journalism at Staffordshire University, says his station was breaking even by the time it was shut in 1999.
"However, that did involve what I would call some rather interesting post-midnight programming," he points out.
In Manchester, Channel M, set up in 2000, produced some acclaimed news, entertainment, sport and music shows before being shut by its owners, the Guardian Media Group, last year.
Former chief executive Mark Dodson says it proved local stations could produce "high quality, low cost television".
It failed, he says, because there was no way to get national advertisers and no reliable way of measuring local audiences in order to tell advertisers how many people were watching.
The government originally planned for the new local stations to be attached to a national "spine" - a company that, among other things, would sell advert slots to national companies on their behalf.
But that plan has been dropped because Mr Hunt said many potential channel owners did not want to be tied to a national organisation.
'Game changer'
The new channels will have some advantages over their predecessors though.
The first is a high channel slot on Freeview, and therefore a higher profile than local channels have had in the past. Freeview is in 75% of UK homes.
The high channel slot is "the game changer", according to Jamie Conway, managing director of Element Television, which is hoping to bid for up to 15 licences.
The second advantage is £25m of set-up funding, to be shared between the channels from the BBC licence fee, followed by a guaranteed £5m a year for the first three years.
But many in the media remain sceptical that local TV can get off the ground.
As former Sun editor Kelvin MacKenzie, who ran Live TV, put it at a conference last November: "The idea of local TV is a complete disaster and anybody going into it is completely nuts."
Comedian and columnist David Mitchell recently wrote that spending millions on "some provincial camcorder-and-advert channels is not in the national, or local, interest".
Mr Hunt has staked a lot on the plan and is determined to see the channels get off the ground.
But whether the live broadcast of his next parliamentary husting will be as appealing as The X Factor remains to be seen.