Hundreds complain about David Starkey's race comments
Torin Douglas
Former media correspondent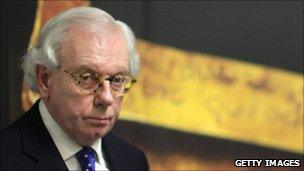 This round-up of Tuesday's main media stories focuses on the controversy over David Starkey's comments on race following last week's riots.
The BBC has received nearly 700 complaints about the historian and broadcaster David Starkey's claim that "whites have become black" during a discussion about last week's riots on Newsnight, reports the Guardian. It says 696 were protesting about Starkey's comments, while a further 21 complained the debate was chaired poorly and he was treated "unfairly". The media regulator Ofcom also had complaints. The paper says the BBC acknowledged that some people will have found Starkey's comments offensive, but said "he was robustly challenged by presenter Emily Maitlis and the other contributors who took issue with his comments".
Labour leader Ed Miliband has described historian David Starkey's comments on race as "disgusting and outrageous", reports BBC News. Mr Miliband said these were "racist comments, frankly, and there is no place for them in our society". But author Toby Young came to Mr Starkey's defence, blogging on the Daily Telegraph website that the historian was not being racist. He said: "Starkey wasn't talking about black culture in general, but, as he was anxious to point out, a 'particular form' of black culture, i.e. 'the violent, destructive, nihilistic, gangster culture' associated with Jamaican gangs and American rap music."
The BBC will launch a temporary Olympics radio station during London 2012, and BBC Three will be devoted to live Games coverage, extending its hours into daytime. BBC news reports the plans also include 1,000 hours of live online video coverage which will not be shown on TV. They were approved by the BBC Trust on Monday. New digital station Five Live Olympics Extra will broadcast in addition to Five Live and 5 Live Sports Extra broadcasts.
"Television kills - or at least it shortens your life by 22 minutes for every hour you spend glued to the screen", reports The Independent's health editor, quoting researchers in Australia. He reports: "the unexpectedly lethal impact of watching the box is revealed as latest figures suggest we are spending more time in front of the screen than ever. Viewing rates hit a new high in the first half of 2011, averaging four hours and three minutes a day, according to the TV marketing body Thinkbox."
Virgin Media has sold off its stake in UKTV, whose 10 channels include Watch, Gold and Dave, reports the Independent. Virgin announced it had sold its 50% stake in the business to Scripps Networks Interactive, a broadcaster based in Tennessee, in a deal worth £239m. UKTV was formed in 1997 between BBC Worldwide and Flextech, which later became Virgin Media Television. The paper says John Smith, the chief executive of BBC Worldwide, thanked Virgin "for the part it has played in developing the business into one of the most successful pay-TV companies in the UK".
Internet giant Google has announced a deal to buy Motorola Mobility for £7.7bn, reports BBC News. The deal would allow Google to "supercharge" its Android operating system, a joint statement said. Tim Weber, Business editor, BBC News website, says it's a high-stakes gamble in the global smartphone wars: "Google's problem is that buying Motorola leaves its other Android partners potentially high and dry. Will they get the same early access to the latest versions of Android?"
The prime minister's speech on his government's response to last week's riots is prominent in many of Tuesday's newspapers. David Cameron is pictured on the front of the Guardian and the Independent speaking in front of a graffiti mural, as reported in the BBC's newspaper review.