Stolen Rembrandt sketch found in church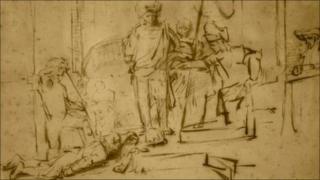 The 17th Century Rembrandt sketch stolen from a California hotel at the weekend was recovered at a church about 20 miles (32 km) away, it has emerged.
Valued at $250,000 (£153,625), the piece, entitled The Judgement, was taken from an exhibition at the Ritz-Carlton in Marina del Rey.
The sketch was recovered at a San Fernando Valley church after a tip from an anonymous caller on Monday.
Police said no one had been arrested in connection with the theft.
A curator confirmed the artwork's authenticity on Tuesday morning.
The sketch was stolen on Saturday between 22:20 and 22:35 local time when a curator was distracted by a guest.
"When the curator turned back to the Rembrandt, it was gone," police spokesman Steve Whitmore said.
It was not clear whether the person talking to the curator was connected to the theft, though Mr Whitmore said a team of at least two people were involved.
The quill pen and black ink work, dating back to about 1655, was part of an exhibition staged by San Francisco gallery The Linearis Institute.
The work, measuring 11 in by 6 in (28 cm by 15 cm) and signed on the back by the artist, was being displayed on an easel or wooden stand and was apparently not fastened down.