Stars step up war on music leaks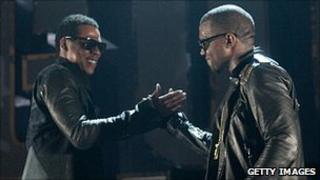 Rap superstars Jay-Z and Kanye West employed tight security and extreme tactics to ensure their album Watch The Throne did not fall victim to the curse that hits almost every other big release - the online leak.
When Watch The Throne, the hotly anticipated collaboration between the two hip-hop heavyweights, was released on iTunes last week, the music was not the only talking point.
Virtually every major artist - from Lady Gaga to U2 - has found their music being leaked. So how did Jay-Z and Kanye stop it happening to them?
Billboard magazine reported some of the steps they took - such as storing the music on fingerprint-protected hard drives that were kept in locked suitcases.
To keep hackers out, their producers turned off wi-fi on their computers as the album was recorded in pop-up studios in hotel rooms around the world.
Draft versions of songs were not sent by email. Instead, the duo insisted that all collaborators must come to their temporary studios to record their contributions in person.
The album's art director Virgil Abloh even suggested on Twitter - possibly joking, possibly not - that producer Noah Goldstein had been "sleeping with the hard drives for like 10 months straight".
Only a small circle of people had access to the music before it was released on iTunes last Monday, at which point it was delivered to a CD manufacturing plant.
The album has now broken the iTunes one-week sales record, selling almost 290,000 copies in its first seven days.
Jeremy Banks, anti-piracy director at the IFPI, the global body representing record labels, said that as far as he could recall, Watch The Throne's anti-leak strategy was "the most successful to date".
Such measures are becoming more common, he believes. "With each release, people learn from the lessons of previous releases.
"You would expect that given the success of something like this that other releases will be looked at and potentially treated in the same way."
John Giacobbi, founder of internet security company Web Sheriff, which has worked with such artists as Lady Gaga, Beyonce and Adele, says pre-release leaks are virtually inevitable.
"These days 99% of albums will leak early, it's just a fact of life," he says. "The bigger battle really is containing the leak once they have leaked."
So where do leaks come from?
Mr Giacobbi says most are traced to journalists who need to hear an album up front in order to review it.
Others occur once the music enters the CD manufacture and distribution process. Leaks from people working in studios are less common.
"Typically it would be beyond the studio, once you move above that process through to distribution," says Mr Banks.
"For that moment in time, that content is the crown jewels for that particular artist and that particular label, and it needs to be dealt with accordingly."
One growing threat is hackers, who have broken into producers' e-mail accounts and other online storage systems.
In June two German men, who targeted stars such as Lady Gaga and Dr Dre, were convicted of copyright theft and computer intrusion after hacking into private e-mail accounts and distributing pre-release music.
One of the men, who went by the name DJ Stolen, was also found guilty of extortion and was jailed for 18 months.
"These days producers either keep everything on a portable hard drive and keep it under the mattress or, if they're keeping stuff online, have it very heavily protected and firewalled," Mr Giacobbi says.
While Watch The Throne did not leak, hackers took control of the Twitter account of one of the album's other producers, Mike Dean, to claim they had been sitting on a copy for a month.
They did not leak it, they said, because they "didnt wont [sic] to hurt the team and KW".
The consequences of a leak can be "fairly dire" in terms of lost sales and disrupted schedules, Mr Giacobbi says.
There is also the annoyance to artists who may have been working on an album for years and want to control the way in which it emerges.
Once it happens Web Sheriff has deals with major file-hosting services, such as Mediafire and Rapidshare, allowing the company to remove files within minutes.
But as well as attempting to throttle the leaks, Web Sheriff also appeals to fans' and bloggers' better natures by politely asking them not to share leaked material and to report any leaks they find.
Lady Gaga's Born This Way was one of the most hotly anticipated albums of the year. Prior to its release in May, Web Sheriff took to Twitter and fan forums.
"We would kindly ask you not to post pirated copies of Born This Way on your site," the message read.
"The label, management and artist would greatly appreciate your co-operation... Thank you for respecting the artist's and label's wishes."
The album did leak a week early. But Mr Giacobbi says a more gentle approach does pay off.
He adds that fans were offered approved Lady Gaga material such as taster tracks, videos and video blogs in return.
"If you treat fans like fans, instead of treating them like criminals, it tends to work," he says.
"We set up a mailbox where all the fans globally could report the leaked files. It was amazing - we had literally thousands if not tens of thousands of fans sending in links.
"They were co-operating because they love Lady Gaga. She has a very close bond with her fanbase and they actually wanted to help.
"So it's working with the fans as opposed to working against them. At the same time, it wasn't a one way street.
"It was you scratch my back, I'll scratch yours. It's a much better way of doing it."