Glee concert film flops at US box office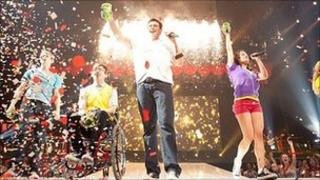 A 3D film featuring the cast of TV's Glee has failed to make the US box office Top 10 after taking $5.7m (£3.5m) over the weekend.
Glee: The 3D Concert Movie was ranked 11th in the weekly chart after opening in more than 2,000 screens.
According to tracking site Box Office Mojo, only an estimated 500,000 tickets were sold for the movie.
Rise of the Planet of the Apes, last week's top film, retained pole position with takings of $27.5m (£16.9m).
Feel-good movie The Help and horror sequel Final Destination 5 rounded off this week's top three.
The former, in which Emma Stone plays a young woman investigating the lives of black housekeepers in 1960s Mississippi, took $25.5m (£15.6m) in its first weekend in cinemas.
The latter, in which Death hunts down the survivors of a bridge collapse, earned $18.4m (£11.2m) between Friday and Sunday.
Part-animated fantasy The Smurfs took fourth place, with Jesse Eisenberg comedy 30 Minutes or Less a new entry at five.
The film, in which a pizza delivery man with a bomb strapped to his chest is forced to rob a bank, took $13m (£7.9m) in its opening weekend.