Rembrandt drawing stolen from hotel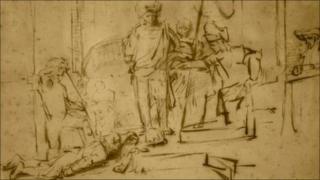 A Rembrandt drawing, valued at $250,000 (£153,625), has been taken from a hotel in California in a "well thought-out, well-executed theft", police have said.
The piece, called The Judgement, was taken from an exhibition at the Ritz-Carlton in Marina del Rey, a Los Angeles County Sheriff spokesman said.
It was stolen on Saturday between 22:20 and 22:35 local time when a curator was distracted by a guest, he added.
Police are studying surveillance video from the hotel.
The Dutch master's quill pen and black ink drawing, which dates back to about 1655, was part of an exhibition at the hotel staged by San Francisco gallery The Linearis Institute.
"When the curator turned back to the Rembrandt, it was gone," said police spokesman Steve Whitmore.
He said the Ritz-Carlton had "some of the best hotel security in the business".
"We're confident that our leads and the surveillance video will help us solve this," he added.
The work measures approximately 11 in by 6 in (28 cm by 15 cm) and was signed on the back by the artist.
It was displayed in the hotel's lobby in an attempt to attract a buyer, the Los Angeles Times reported.