Stephen Sondheim pans Porgy and Bess stage remake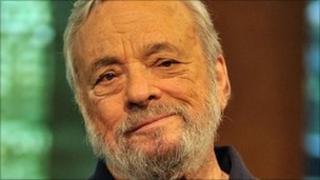 Award-winning composer Stephen Sondheim has panned a forthcoming Broadway remake of the opera Porgy and Bess.
After reading an article written about the show in the New York Times, the musician penned a letter to the newspaper criticising the project.
The title of the show is now The Gershwins' Porgy and Bess, which Sondheim said was "dumb".
He also criticised plans to write new dialogue and introduce a happy ending.
Referring to artistic director Diane Paulus, Sondheim wrote: "Ms Paulus says that in the opera you don't get to know the characters as people. Putting it kindly, that's wilful ignorance."
"These characters are as vivid as any ever created for the musical theatre, as has been proved over and over in productions that may have cut some dialogue and musical passages but didn't rewrite and distort them," wrote Sondheim.
"I can hear the outraged cries now about stifling creativity and discouraging directors who want to reinterpret plays and musicals... but there is a difference between reinterpretation and wholesale rewriting."
He went on to say that he was not judging the production before seeing it, just questioning the "attitude of its creators toward the piece and the audience", adding "perhaps it will be wonderful".
"In the interest of truth in advertising, let it not be called 'The Gershwins' Porgy and Bess'," concluded Sondheim, in his letter. "Advertise it honestly as 'Diane Paulus's Porgy and Bess'. And the hell with the real one."
New scenes
Responding to Sondheim's letter, Ms Paulus said a statement: "The entire creative team and cast have the most enormous love and respect for Porgy and Bess.
"We are grateful for the support and encouragement we have received from the Gershwin and Heyward Estates for this production."
The show is due to debut at the American Repertory Theater in Massachusetts on 17 August, before transferring to Broadway later this year.
Pulitzer Prize-winning playwright Suzan-Lori Parks, has helped create new scenes and invented biographical details for some of the characters, as well as a more hopeful ending.
Porgy and Bess was first staged in 1935, and included the popular songs Summertime, It Ain't Necessarily So and I Got Plenty 'o Nuttin.
It tells the story of Porgy, a disabled beggar who tries to rescue Bess, a drug addict, from both her violent lover, Crown, and the clutches of drug dealer, Sportin' Life.
Porgy eventually kills Crown, but while in prison, Sportin' Life preys on Bess and she succumbs to drugs again and his promises of a fresh start, accompanying him to New York.