Banksy work helps draw record crowds to graffiti event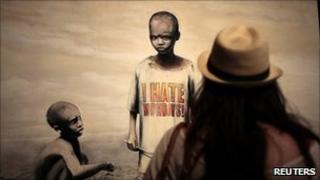 An exhibition about graffiti and street art, featuring the work of Banksy, has attracted record numbers to the Museum of Contemporary Art in Los Angeles.
The museum said 201,352 people went to view Art in the Streets which opened in April and closed on Monday.
Previous attendance records were set in 2002 when 195,000 people saw an Andy Warhol Retrospective.
However, the Art in the Streets exhibition ran for four weeks longer than the pop art exhibition.
It is thought that free entry every Monday to the Streets event - sponsored by Banksy - helped boost visitor numbers.
The museum said on average more than 4000 visitors attended on the free day and a daily average of 2,486 people would visit during the rest of the week.
The final day of the exhibition attracted an all-time daily high with 8,424 people through the door.
Other artists featured included Shepard Fairey and Space Invader.
The institution also said that nearly 2,500 new members joined during the exhibition's 17-week run.
The results come in the first year of director Jeffery Deitch's tenure at the museum.
"It is my mission to increase MOCA's attendance and to engage new audiences," he said.