Mr Men characters revamped for 40th anniversary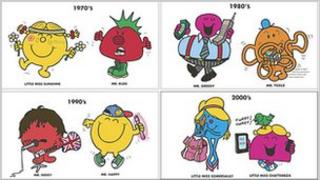 Characters from the children's book series Mr Men have been revamped to celebrate its 40th anniversary.
Roger Hargreaves originally created Mr Tickle in 1971, after his young son asked him what a tickle looked liked.
Adam Hargreaves, who now illustrates the books, has re-invented some of the popular favourites to reflect changes in the last four decades.
Mr Greedy is re-imagined as a 1980's banker and Little Miss Chatterbox reflects the 2000's with a mobile.
Little Miss Sunshine was depicted as a hippy for the 1970's and the 1990's were represented by Mr Happy as an acid house raver.
Along with Mr Tickle, the other earlier characters including Mr Bump, Little Miss Sunshine and Mr Messy became hugely popular with readers.
The famous books have gone on to sell 120 million copies and have been translated into 15 different languages.
In the last decade, Roger Hargreaves became the third best-selling British author, topped only by JK Rowling and Dan Brown.
Adam Hargreaves, 47, said: "It is truly incredible that something so personal to my father went on to become such a global phenomenon.
"If he were alive today, I think he would be ecstatic to see how popular his creations have become.
"My Dad managed to capture basic human characteristics that can be recognised as part of each and every one of us. We've all been a Mr Happy, Mr Funny and even a Little Miss Naughty at times."