The Cholmondeleys and The Featherstonehaughs to disband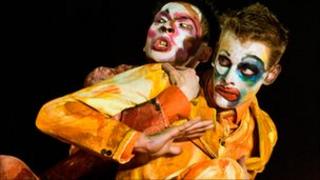 The all-female dance troupe The Cholmondeleys and its male counterpart The Featherstonehaughs are to disband after losing their funding.
The two companies, pronounced Chumleys and Fanshaws, will come to an end in December following a 100% funding cut from Arts Council England (ACE).
Choreographer Lea Anderson formed The Cholmondeleys in 1984, with the all-male group created four years later.
The Featherstonehaughs will perform a final "celebratory" tour this autumn.
The two groups have spent much of the last 10 years performing works together, most recently with the piece Dancing on Your Grave in 2009.
However The Featherstonehaughs embarked on its first solo tour in a decade last year, with a piece called Edits.
It will tour this again in October and November, following which both companies will be wound up. The Cholmondeleys will not have a farewell tour.
'Complete blast'
Jo Stendall, the companies' general manager, told The Stage that the Arts Council had funded them since the mid-1990s.
But after being jointly awarded more than £300,000 this year, it has not been made part of ACE's national portfolio from 2012.
"We all felt it would be a really appropriate moment to stop, look back on what we have done - which is a hugely significant amount - and celebrate that," she said.
"To continue did not seem the right way to end the story. It is sad, but we are thankful for what we have done and what we had - which is a complete blast over the last 27 years."
Alumni of the troupes include Matthew Bourne and Sadler's Wells producer Emma Gladstone.
An ACE spokesman said it was "with great regret" it was not able to continue funding the companies.
"We will, however, continue to work with Lea Anderson and may be able to support her future work through other funding streams," he added.