Tennessee Two bassist Marshall Grant dies aged 83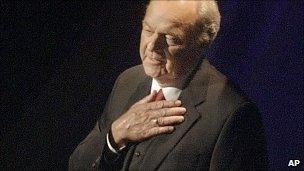 Marshall Grant, a member of Johnny Cash's original band the Tennessee Two, has died in Arkansas aged 83.
The bassist from Mississippi had been in the state for a Johnny Cash Festival and fundraiser when he suffered an aneurysm and stroke, Cash's daughter, Rosanne Cash, said.
Grant played in Cash's band together with guitarist Luther Perkins from 1954-1980.
The trio were known for their "boom-chicka-boom" style beat.
"The Johnny Cash sound was created by the three of them equally," Rosanne Cash told the Associated Press.
"There was none of that `boom chicka boom' without Marshall. You can't separate the three of them at that point when it all started. It was one thing."
Ms Cash said she spent the last days of Grant's life at his side after meeting at rehearsals for the Johnny Cash Festival, staged to raise funds to restore the late singer's boyhood home in Dyess.
She said the musician fell ill during rehearsals and the festival was held last Thursday without him.
Grant and Perkins had been car mechanics in Memphis, Tennessee, who practised together when their co-worker Roy Cash introduced them to his brother, John, in 1954.
After initially failing to impress Sun Records producer Sam Phillips, the trio passed a second audition and began recording in 1955.
Originally called the Tennessee Three, Phillips suggested the band be called Johnny Cash and the Tennessee Two.
They would go on to record hits including I Walk the Line, Folsom Prison Blues, Ring of Fire, Big River and Cry Cry Cry.
They were credited with creating rockabilly and helping to modernise country music.
Grant played bass with Cash until 1980 when he began a career in management and later wrote an autobiography I Was There When It Happened.
Marshall was the last surviving member of the trio - Perkins died in 1968 from injuries suffered in a house fire, while Cash died in 2003.
Grant and Perkins were among the first inductees into the Musicians Hall of Fame in Nashville in 2007.
Related Internet Links
The BBC is not responsible for the content of external sites.