Social media's role in the riots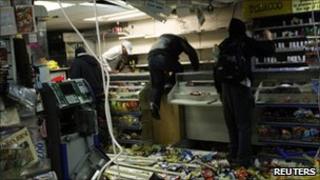 This round-up of today's main media stories focuses on reports of the role social media played in the riots in London and other cities.
The Daily Telegraph says police were prepared for trouble in Birmingham after a campaign on Facebook, BlackBerry Messenger and Twitter warned of violence and encouraged others to get involved. Rumours spread that trouble would start at 18:00 BST with an out-of-town leisure complex, believed to be Star City, a possible target. West Midlands police posted a message on Twitter at around 17:00 BST yesterday in response to rumours of planned disorder.
The Guardian reports that the most up-to-the-minute rallying in the London riots took place not on Twitter or Facebook "but on a more covert social network: BlackBerry Messenger".
The Daily Telegraph says the BBC was criticised for political correctness last night after continually referring to the yobs rioting across London as "protesters". It said "two days after a peaceful protest over the death of suspected gangster Mark Duggan in Tottenham ended, the corporation was still using the term to describe violent looters".
Culture Secretary Jeremy Hunt will today announce the 65 towns and cities that are in the running to host new local television services. Former chief executive of Channel 5 David Elstein told Radio 4's Today that Mr Hunt was "pushing a rock uphill".
The Times and Daily Telegraph have attacked football's governing bodies as the lockout of sports journalists from matches over media accreditation disrupted newspaper reports over the weekend, reports the Guardian. Journalists from national titles, news and picture agencies were locked out of all but a handful of the 36 games, after talks broke down on Wednesday night between the Premier League, Football League and a media coalition.
Two images of the riots in London feature on many of the front pages, as reported in the BBC's newspapers review. One shows a man, wearing a hood with a mask to cover his face, walking in front of a car burning out of control. The other is of another masked rioter, carrying a can of strong lager, as he walks past a burning car.