CSI actress Marg Helgenberger to leave show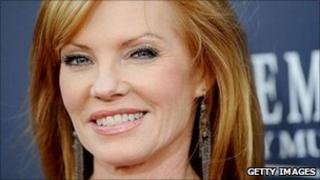 CSI: Crime Scene Investigation star Marg Helgenberger has said she plans to leave the long-running crime drama at the end of the forthcoming 12th series.
The star made the surprise announcement at a Television Critics Association press conference in Los Angeles.
Helgenberger's character, Catherine Willows, has been in the show since it began in 2000.
The actress said although the decision to leave was hard, she had been "itching to get back on the stage".
The 52-year-old added that she had considered leaving at the end of the last series, but decided she was "having a hard time letting go" and was "not yet done playing this character".
"That's why I decided to extend (my contract) a little bit," she said.
However the actress hinted she may return to the show in the future, saying: "They've always left the door open for me."
It was announced last month that Ted Danson was joining the cast as the new night-shift supervisor, replacing the outgoing Laurence Fishburne.
The new series begins in the US on 21 September.