Oprah Winfrey and James Earl Jones awarded Oscars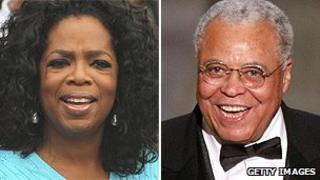 Chat show queen Oprah Winfrey and actor James Earl Jones are to receive honorary Oscars, it has been announced.
Winfrey, who was nominated for a best supporting actress Oscar in 1985 for The Colour Purple, will receive the Jean Hersholt Humanitarian Award for her philanthropic work.
Jones, along with makeup artist Dick Smith, will receive awards for their outstanding careers.
The prizes will be handed out the Governors Awards in November.
Although best known for her long-running chat show, Winfrey's philanthropic efforts include the Oprah Winfrey Foundation and the Oprah Winfrey Leadership Academy for Girls, which opened in South Africa in 2007.
On Wednesday, Los Angeles Times columnist Patrick Goldstein called the decision "a boneheaded move".
But Tom Sherak, president of the Academy of Motion Picture Arts and Sciences, which oversees the Oscars, defended the decision to honour Winfrey.
"Oprah has given and given and given," he said. "This is not about personality. This is about a person who has come from the depths, risen to the heights and given back.
"That's a perfect example of why this award was created."
Extraordinary distinction
James Earl Jones, who is best known as the voice of Darth Vader in the Star Wars film, has appeared in more than 50 films during his career and was Oscar nominated in 1971 for The Great White Hope.
His other credits include Field of Dreams, Patriot Games and The Hunt for Red October.
Known in the industry as "the godfather of make-up", Smith won an Oscar in 1984 for his work on Amadeus.
He also worked on The Exorcist, Taxi Driver and The Deer Hunter.
The Academy of Motion Picture Arts and Sciences said the honorary awards were given to individuals for "extraordinary distinction in lifetime achievement, exceptional contributions to the state of motion picture arts and sciences, or for outstanding service to the Academy".