Charlie Sheen's screen character 'to be given funeral'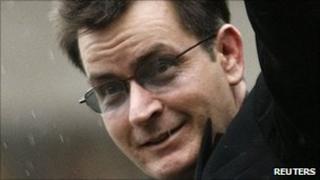 Charlie Sheen's character in US TV show Two And A Half Men is to be given a funeral when the series returns in September, according to reports.
US website Deadline Hollywood said Charlie Harper's home would also be sold off and Sheen's replacement, Ashton Kutcher, would be introduced.
The storyline comes after Sheen was sacked from the show in March after criticising its producers.
Broadcaster CBS and programme makers Warner Brothers declined to comment.
Sheen lost his job after months of reported drug and drink-fueled partying and repeated spells in rehab.
The studio said it had acted after "careful consideration".
At the time Sheen was the highest paid actor on US television.
The star has since signed a deal for a new series called Anger Management, but the show has yet to be taken up by any TV networks.