Joanna Trollope to chair Orange Prize for Fiction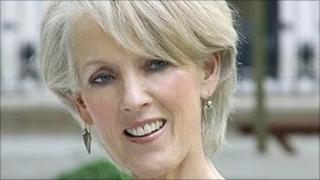 Bestselling author Joanna Trollope has been appointed the chair of judges for the prestigious Orange Prize for Fiction in 2012.
The £30,000 annual prize recognises the work of fiction written in the English language by women.
It is the first time the panel has been led by a full time novelist since it began in 1996, organisers said.
Trollope said the award has "produced winners of true distinction and originality".
The writer became a household name after her 1991 novel The Rector's Wife became a huge success.
She has gone on to write 11 more contemporary novels, including Daughters in Law.
"This is such an impressive prize," she said.
"It has produced winners of true distinction and originality and I love the fact that it is generously and properly open to the world. I was so pleased to be invited to chair next year's prize, and much look forward to working with the judges over the coming winter."
Previous winners of the Orange Prize for Fiction, which is backed by the UK charity Booktrust, include Lionel Shriver for We Need to Talk about Kevin (2005), Zadie Smith for On Beauty (2006) and Tea Obreht for The Tiger's Wife (2011).
The winner will be announced on 15 June next year.